Article
4 Fun Tips for Keeping Your Dog Cool in the Summer
All year we wait for that moment when we can finally ditch our jackets and feel the warm sunshine on our faces. But as the days get longer and brighter, it's never long before a record-breaking sweltering day has us searching for relief. Chances are if you find yourself seeking the nearest shade to cool off, your dog is, too!
Ensuring your fur friend stays safe in the heat while also having a good time is essential to fun in the sun. When the temperatures rise, try these tips to keep your dog cool in the summer!
Chill Out & Chew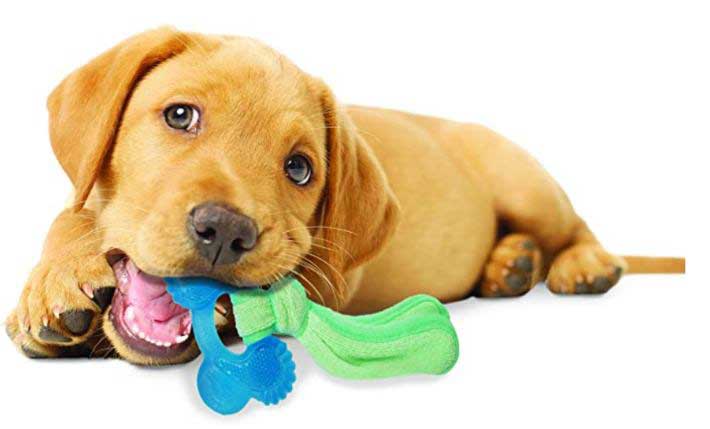 No matter the season, dogs love to chew. And on a hot, humid day, your dog will savor a "chiller" chewing experience with a fun, freezable chew toy. In addition to cooling your best friend off, a chilled chew toy will encourage healthy chewing habits and keep your dog happily entertained.
Nylabone offers many different freezable chew toys to match any chewing style, such as the Moderate Chill & Treat Chew Toy, which can be filled with your dog's favorite treats and then frozen. Meanwhile, the Nylabone Stuffable chew toy is a great option for stronger chewers and can be filled with yogurt, peanut butter, or another spreadable delight and chilled.
If you have a young pup, you can choose from multiple puppy chew toys that can be soaked and put in the freezer to keep your pup cool—and provide relief for teething gums!
Pool Time with Your Pooch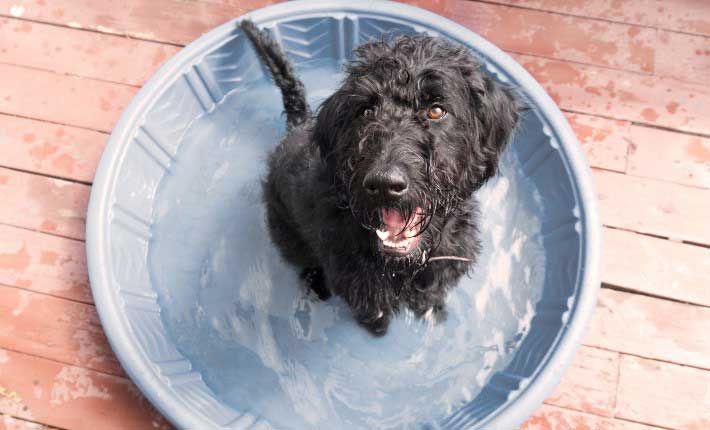 Playing in the pool is synonymous with summer—and it is even more fun with your dog! Plus, it's a great way you and your best friend can incorporate some exercise into the day. Before diving into the water together, ensure that you brush up on dog swimming safety.
If you don't have a pool, a dog-friendly kiddie pool works great for your pup to beat the heat. Ensure your kiddie pool is designed for dogs because your pooch's nails may cut through the material of an inflatable baby pool. You should also make sure the water temperature is not too hot before filling the pool—especially if you're using a hose that has been lying in the sun.
No matter the size of your pool, it is always a good idea to add in a floating dog toy for extra pool time enjoyment and interactive play while your pooch splashes around!
RELATED: Do Dogs Sweat? Here's How They Beat the Heat
Sprinkler-in-the-Sun Fun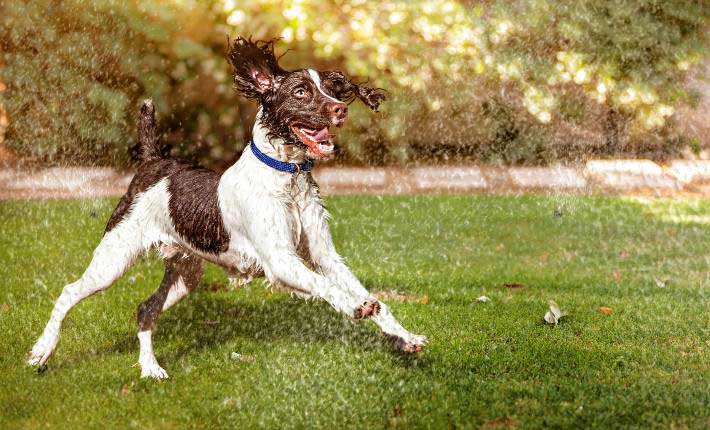 Don't have access to a pool? Another fun tip for how to keep your dog cool in the summer is to turn on the sprinklers! Your dog will love running through the water—and you might just have the greenest grass on the block! To provide your dog some unexpected amusement, you can even set your sprinklers to go on periodically throughout the day.
Incorporating a game of fetch as your fur friend frolics through the water can add more excitement, promote exercise, and encourage bonding between the two of you. Dog play toys from our Power Play series feature easy-pickup shapes and high-visibility colors for next-level play time.
Freeze 'N Treat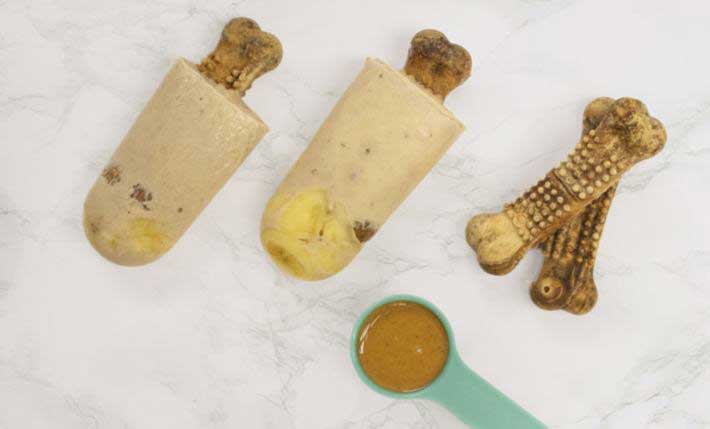 After a day full of summer activities, there's nothing like a refreshing treat to cool off and your dog deserves one too! Homemade frozen dog treats such as "pupsicles" can be made at home with just a few simple, healthy ingredients including delicious fruits, peanut butter, yogurt, and more.
Along with using chew treats as pupsicle "sticks," you can put the ingredients of these frozen treats in your mold of choice like your dog's favorite bowl or even in a stuffable chew toy to combine the chewing and treating enjoyment!
Always make sure to feed your dog in moderation and provide them plenty of water along with these snacks.
Whether you give your dog a freezable chew toy to keep them busy or turn on the sprinklers for them to splash around and play, all of these ways to keep your dog cool in the summer will also help continue to build the relationship between you and your fur friend.