Article
Frozen Dog Treat Recipes: Pupsicles, Smoothies, & More
There is nothing better than a refreshing cold treat on a hot summer day, and our dogs deserve the same enjoyment! That's why we put together this wag-worthy list of frozen dog treat recipes made from everyone's favorite warm-weather ingredients.
To make these "pupsicles" and frozen treats at home, you can use a variety of trays or molds such as ice cube trays, traditional popsicle molds, silicone candy molds, a muffin tin, or even paper bath cups (just be sure all paper is removed before giving to your dog!)
Each recipe is intended to make multiple servings and should be fed depending on your dog's weight and dietary needs.
Pro tip! Freeze your dog's favorite recipes in a stuffable treat toy for longer-lasting enjoyment.
Peanut Butter & Banana Pooch Pops
Your dog will love this classic flavor combination! Featuring potassium-rich banana, calcium-packed yogurt, and peanut butter for an extra protein kick, these treats will help keep your pooch happy and energized.
For a yummy edible pupsicle "stick," insert a Natural Nubz® chew treat before you freeze. "Bone" appetite!
What you'll need:
1 tablespoon dog-friendly peanut butter
2 bananas
1 cup plain yogurt
Natural Nubz chew treats (be sure to feed the appropriate size chew treat based on your dog's weight)
Instructions:
Mash 1 banana. Blend with peanut butter and plain yogurt until smooth. Cut the other banana into approximately ¼-inch slices. Insert 3 to 4 banana slices into a mold of your choice; these slices will provide a base to ensure your "stick" stays in place. Pour banana, peanut butter, and yogurt mixture on top of the banana slices. Insert a Natural Nubz chew treat into each mold, keeping part of the treat exposed as your tasty pupsicle "stick." Freeze until firm.
Waggin' Watermelon Bites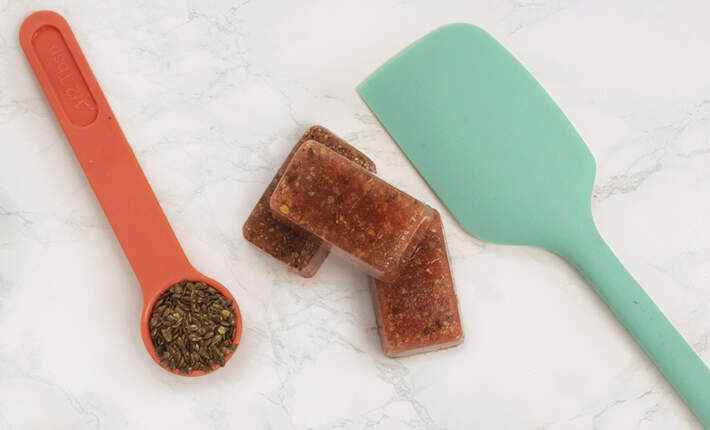 Watermelon is over 90% water, making these thirst-quenching treats one way to keep your dog safe in the summer heat and satisfy their taste buds. Just stay away from the rind and seeds, which could cause digestive issues.
Making these frozen treats even better, flax seeds sneak in some extra nutrition. They're packed with omega-3 and omega-6 fatty acids and include fiber and protein to help your pooch feel their best.
What you'll need:
2 cups seedless watermelon, chopped
1 cup water
1 tablespoon flax seeds
Instructions:
Blend ingredients together until smooth. Pour into mold of choice and freeze until firm.
Red, White, and Blue Smoothie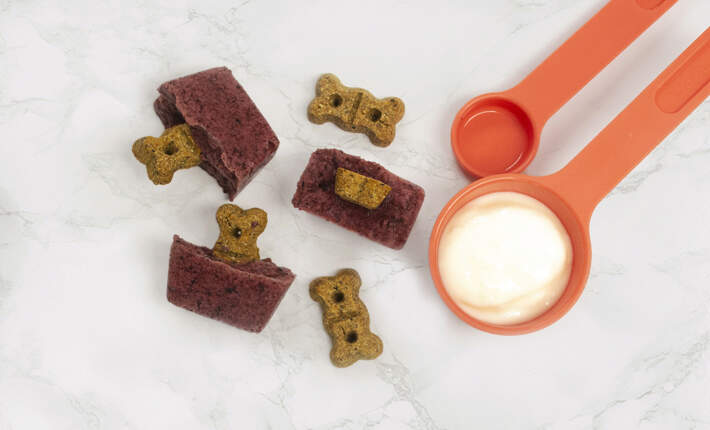 Strawberries and blueberries are more than quintessential summer treats—they're also natural superfoods! Both these ingredients are high in fiber and vitamin C—which are essential to your furry friend's nutrition—and contain antioxidants to help support the immune system. Plus, plain yogurt provides a healthy source of calcium!
You can choose to serve these tasty treats as is or insert a Healthy Edibles® chew treat for an extra-special surprise!
What you'll need:
1 cup sliced strawberries
1/2 cup plain yogurt
1 cup blueberries
Healthy Edibles chew treats (optional)
Instructions:
Blend ingredients together until smooth and pour into mold of choice. If desired, add a Healthy Edibles chew treat, keeping part of the treat exposed. Freeze until firm.
RELATED: 5 Easy Dog Treat Recipes for Stuffable Toys
Tropical Froyo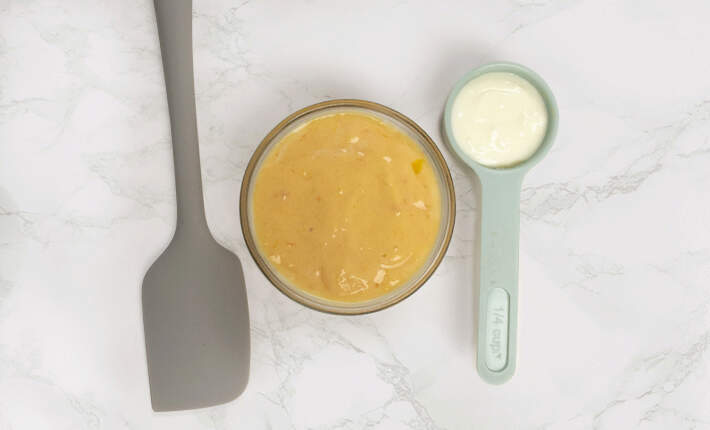 Say "aloha" to this island-inspired treat! The exotic mixture of mango and papaya provides a unique flavor that's perfect to enjoy by the pool, on the grass, or wherever your dog feels like chillin' out.
Together, these wholesome fruits offer a variety of essential vitamins and minerals, including vitamins A, B6, C, E, and K. Papaya also has folate, potassium, and calcium to support heart health and keep your dog powered up for whatever the day holds!
What you'll need:
½ cup seedless mango, chopped
½ cup seedless papaya, chopped
1 cup plain yogurt
Instructions:
Slice the mango and papaya into bite-size chunks and freeze. Then mix with plain yogurt in a blender until you achieve a desired texture. Serve a portion in your dog's favorite bowl.
Sharing these frozen dog treat recipes with your pup is a fantastic way to keep them satisfied and care for their overall wellness. Always feed in moderation and make sure your dog has plenty of water when spending time outside. Here's to a long and exciting summer!