Article
4 Tips for Traveling with a Dog
The only thing better than going on vacation? Going on vacation with your dog! Traveling with a dog can transform any trip from average to extraordinary! But there are a few extra things you should take care of before you head out on your adventure...


Here's How to Prepare Before Traveling with a Dog!
Ensure Your Dog's Vaccinations Are up to Date
One of the most important things to do before traveling with your dog is to get them up to date on all vaccinations. Rabies, distemper, parvovirus, and adenovirus are a few examples of core vaccinations dogs need, according to WebMD.

If you're traveling internationally, you may need to obtain a certificate of health from your veterinarian. Even when traveling closer to home, it's still a great idea to make sure your dog is protected from any diseases you may encounter along the way.
Find Dog-Friendly Establishments
If you've ever considered traveling with dogs, even just for a day trip near home, you are certainly aware that not all establishments welcome dogs. There are plenty of websites that can help you find dog-friendly hotels and restaurants, which are great resources for tracking down accommodations for you and your fur pal.
Pack the Right Supplies
Before your departure, make a list of any items your dog will need during the trip. Here's a quick list of basics to pack when traveling with a dog:
Collar
Leash
Dog food and water
Food and water bowls
Potty pads
Small first aid kit
A picture of your pup (in case they get lost)
Bonus tip: Line your car seats with potty pads for protection just in case your dog gets motion sickness!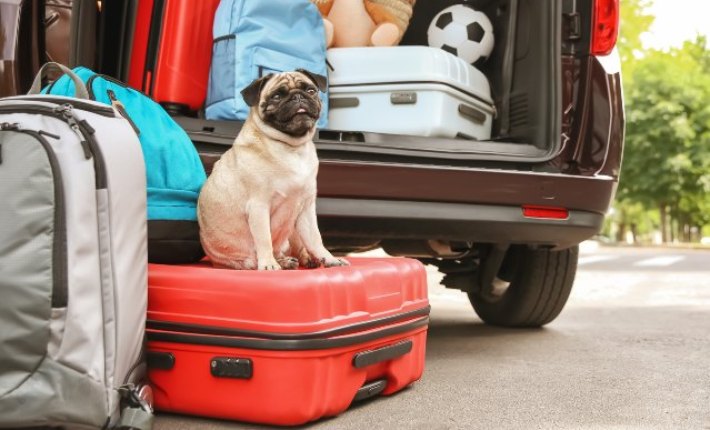 Manage Car Time Wisely
Now that you're mapping out your trip, be sure you plan out your dog's mealtimes and potty breaks. Try to stick to your dog's typical schedule as much as possible. If you stop to rest, respect other people and places by cleaning up after your dog and keeping them leashed, especially if walking your dog at night.
RELATED: 10 Dog-Friendly Vacation Destinations on the East Coast
What If You Can't Bring Your Dog with You?
Of course, there are some situations where you simply cannot travel with dogs. Think: business trips, destination weddings, and theme parks, to name a few. Luckily, there are a couple of great options to ensure your dog is in good hands while you're traveling.


Hire an At-Home Pet Sitter
You can find experienced and licensed professionals who will walk your dog several times a day, feed them, and administer necessary medications. Some even offer live-in services, providing the bonus of house sitting and the comfort that your dog has around-the-clock company.

If you don't opt for a professional pet-setting service, try to find a pet sitter you either personally know or know through mutual friends. Ask the prospective sitter to visit before your trip to get acquainted with you and your dog. This is a great time to observe how the sitter interacts with your dog and how your dog responds.

Clearly explain your expectations and clarify the sitter's obligations. If they will be staying in your home, outline boundaries and special rules, such as which rooms stay off limits or what to do if your dog won't eat their dinner. By the end of the visit, you will have peace of mind knowing your dog will be in great care while you're gone!

What to look for in a pet sitter:

Do they have experience with basic dog care duties such as feeding and walking?
Do they have a back-up plan in the event they cannot get to your home?
Are they comfortable interacting with your dog?
Is your dog comfortable interacting with the sitter?
Are they a licensed professional?
Is their fee comparable to other pet-sitting services?
If you cannot find a pet sitter that checks all your boxes, then a boarding kennel might be a better fit!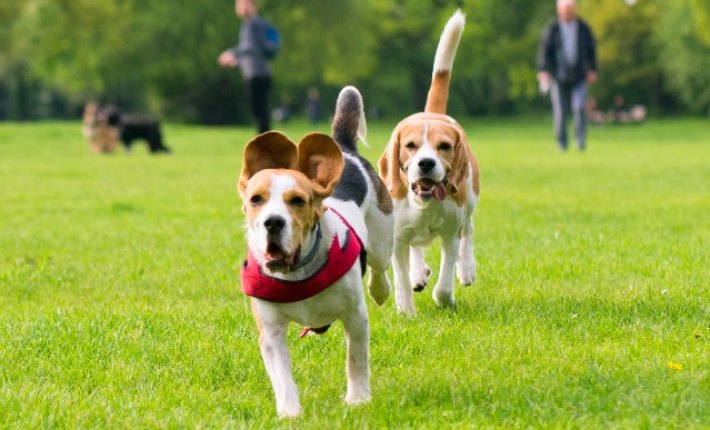 Board Your Dog at a Kennel
By far the most common source of vacation pet care is a boarding facility, which is a perfectly acceptable option while you're away. Some boarding kennels even resemble luxurious spas, complete with private rooms and massages.

Before you leave your dog for the first time at any boarding facility, you should pay a visit to observe the facility's conditions and the staff's manners. You'll have the opportunity to ask staff members important questions like:
How much daily exercise will my dog get?
How much personal attention can my dog anticipate each day?
Will my dog be interacting with other dogs in the facility?
Will the staff feed my dog the diet they're used to?
Do I need to provide my own dog food?

Conversely, there are issues that reputable kennels will take up with you. Is your dog up to date on all shots? Has your dog been sneezing or coughing? Kennels usually require all boarders to be vaccinated for kennel cough, a highly contagious illness.

The staff may also ask about the level of dog training your pup has reached, or if they have any special health or behavioral needs. This exchange of vital information is an important step in finding the best care for your best friend.

You can also see if your local vet or animal hospital offers boarding services. This can provide your dog with a familiar environment and staff that can handle any health problem that may arise.


Safe Travels!
Whether you're traveling with your dog or taking a solo adventure, vacationing as a pet parent is all about planning. By preparing yourself and your dog ahead of time, taking a vacation will be as relaxing as it should be!