Article
10 Dog-Friendly Vacation Destinations on the East Coast
Don't want to leave your fur kid behind on your next vacation? Don't fret—whether you're looking for a cozy log cabin or stretches of sandy beach, there are plenty of dog-friendly vacation spots on the East Coast for you and your furry friend to enjoy together.
These 10 destinations along the Atlantic are just a car ride away for Vermonters, Floridians, and everyone in between.

#1: Rehoboth Beach, Delaware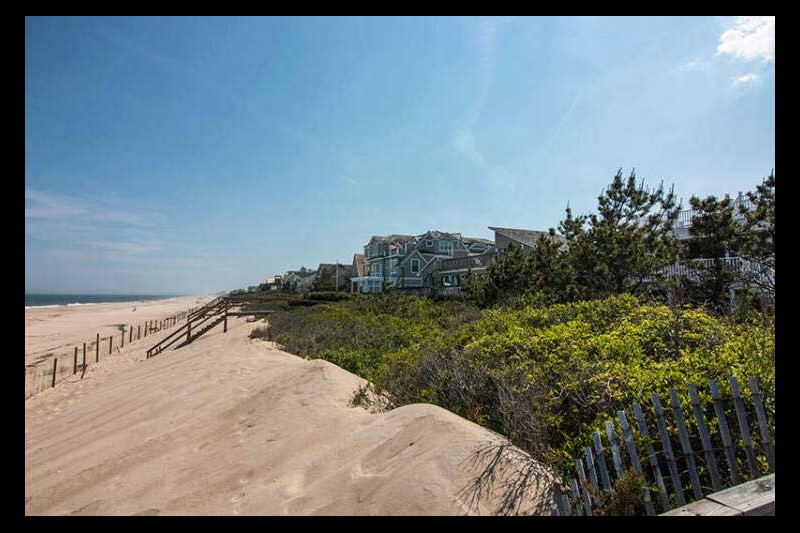 Delaware's stretch of natural beaches is greatly underrated. If you're near southern New Jersey, hop on the Cape May Lewes Ferry to cross the Delaware Bay. Pets ride for free!
When finding a place to stay, there are several house rentals and even some hotels that allow dogs, such as the Atlantis Inn, which is two blocks away from the beach.
Does your dog love surf and sand? Delaware beaches offer many options for you to visit with your pooch. In neighboring town Dewey Beach, dogs are allowed on beaches before 9:30 a.m. and after 5:30 p.m. in the summer, or any time during the rest of the year.
After a long day in the sun, take your dog to the movies at the Rehoboth Beach Bandstand and enjoy "Cinema by the Surf," which hosts a free outdoor movie showing at dusk. If you're interested in finding pet-friendly restaurants, visit The Big Chill Surf Cantina. This surf bar has an outdoor area where you and your best four-legged friend can enjoy some food, drinks, and live music. When you're ready to get your legs moving, The Junction and Breakwater Trail—which used to function as a railroad—is a nearby path that's great for dog walking.

#2: Sanibel Island, Florida
Sanibel Island, famous for its variety of seashells and breathtaking Gulf Coast sunsets, has several dog-friendly beach house rentals and hotels to stay in, such as the Tropical Winds Motel & Cottages, which is located right on the Gulf.
Lounge with your pup at Bowman's Beach, Lighthouse Park Beach, or Tarpon Bay Road Beach at any time. Explore nature at JN "Ding" Darling National Wildlife Refuge—you can even take your dog on the Wildlife Drive tour through this mangrove forest!
Head out for brunch to the Over Easy Café (try their cinnamon buns) or the Island Cow. At neighboring Captiva Island, you can also enjoy food, drinks, and the beautiful sunset while dining with your dog at the Mucky Duck's outdoor picnic tables.

#3: Golden Isles, Georgia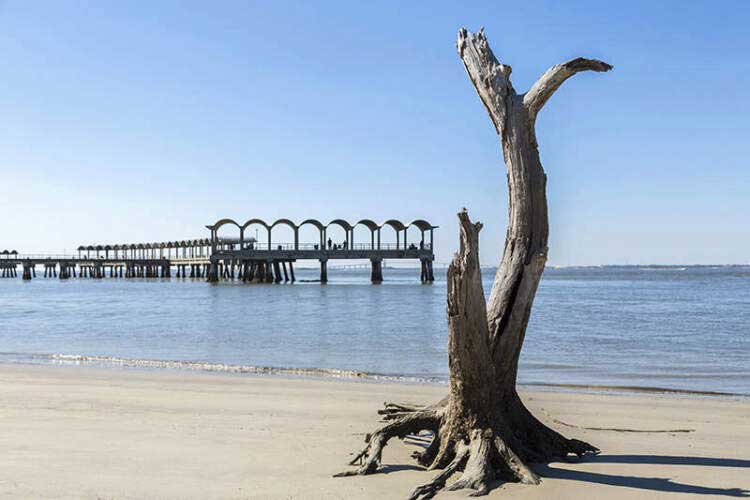 The Golden Isles include the islands along Georgia's Atlantic Coast: Jekyll, St. Simons, and other smaller islands. About 65 percent of Jekyll Island is natural and untouched, so you and your dog have access to most of its beaches at any time. Plus, there are many dog-friendly lodging options throughout the islands.
Enjoy a sunset and seafood at Latitude 31's "Rah Bar" patio, a waterfront spot that welcomes friendly dogs. Head to St. Simons Island's East Beach and Massengale Park, which are great for dogs to run along the shore and swim in the ocean. Is your dog craving some socialization with fellow pups? Visit Frederica Park on the north end of St. Simons Island. This dog park is the perfect place for your dog to let loose and meet some new furry friends—just be sure to follow dog park etiquette for a safe and fun visit!

#4: Nantucket, Massachusetts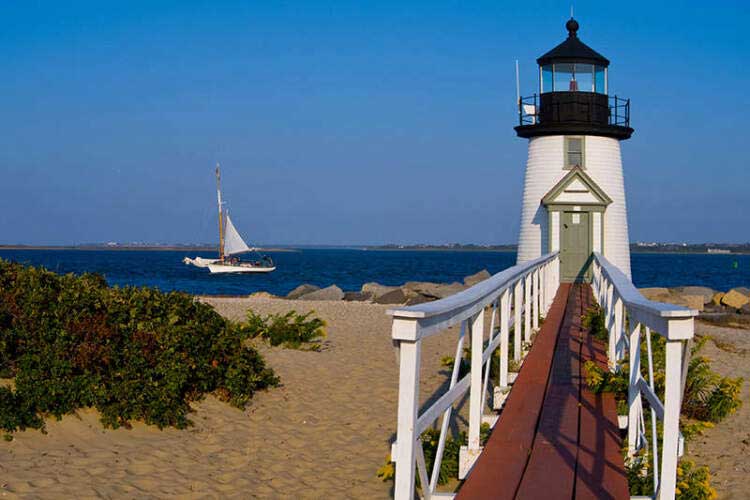 Nantucket is sprinkled with historic lighthouses, museums, a bustling downtown, and a ton of dog-friendly beaches.
If you and your pup would rather avoid the seasonal beach crowds, check out Steps Beach and Nobadeer Beach, where you'll have plenty of room for shore-side shenanigans. dogs are also permitted at Francis Street Beach, which is known for its more tranquil waters. The Wave shuttle can take you and your furry friend to these beaches for free as long as your dog is in a carrier. You can also take this shuttle to the airport, ferries, and downtown Nantucket!
Cisco Brewers is a brewery, distillery, and vineyard that offers tours and has outdoor seating—both of which are open to dogs. Don't forget to check out the Milestone Cranberry Bogs, where you and your dog can walk alongside acres of rich red cranberries.

#5: Bar Harbor, Maine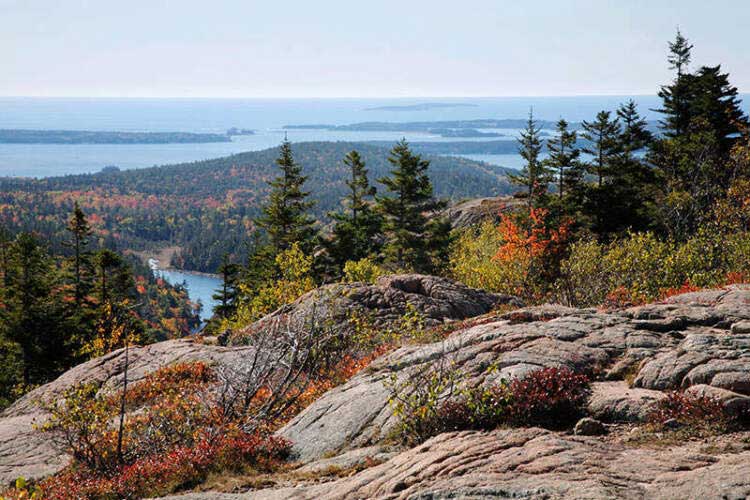 Bar Harbor offers something for everyone: the mountains, the sea, and an action-packed downtown. This New England town is perfect for dog-friendly vacations because it's surrounded by Acadia National Park, which encompasses more than 50 square miles of mountains, lakes, hiking and biking trails, and picturesque views of the coastline. Not to mention, the park is open to dogs!
Make your way around Bar Harbor on the Island Explorer, which is a free, pet-friendly shuttle that you can take to Acadia National Park and many other popular sites. Be sure to stop in the downtown's pet-friendly shops, especially local pet shop Bark Harbor for a unique treat from the "barkery."
You can also find a great dog park between Seal Harbor and Northeast Harbor, which has a pond for the "sea dogs" and trails for the land lovers.
If you're looking to explore by water, leashed pets can join you on the Acadian's boat tours. Treat your furry companion to a two-hour cruise along Frenchman Bay.

#6: Outer Banks, North Carolina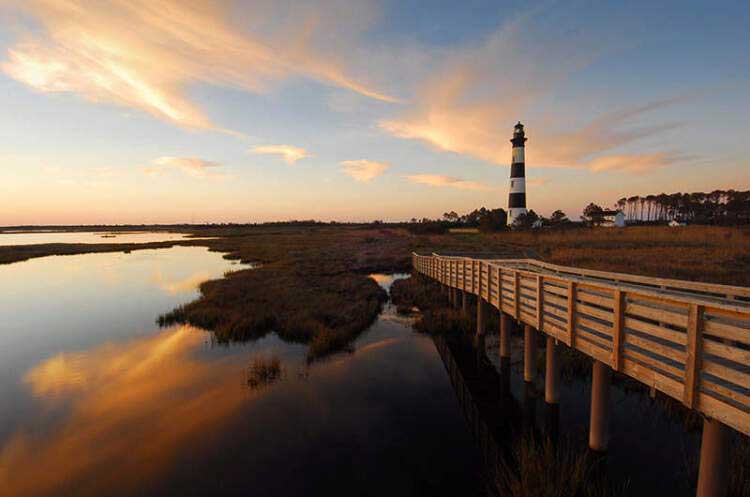 The Outer Banks is a 130-mile stretch of barrier islands off the North Carolina coast. Popular for family vacations, these islands are home to many quaint beach towns, each with their own character. Best of all, most of the beaches are dog friendly all year long!
If you find yourself in Kill Devil Hills, take your dog to Bonzer Shack. This little surf shack offers great food and live music, plus you can play cornhole and nosh at their picnic tables in their "backyard." Or, head to Kitty Hawk and visit John's Drive In, a lunch spot with special ice cream "puppy cups" for your fur kids.
Cape Hatteras National Seashore is another perfect place to take your pup where you can admire the iconic Cape Hatteras Lighthouse. You can even drive your car onto certain sections of this park and spend the day fishing with your dog. The Duck Trail is a seven-mile long, multi-use path that traverses the entire length of the town.

#7: Asbury Park, New Jersey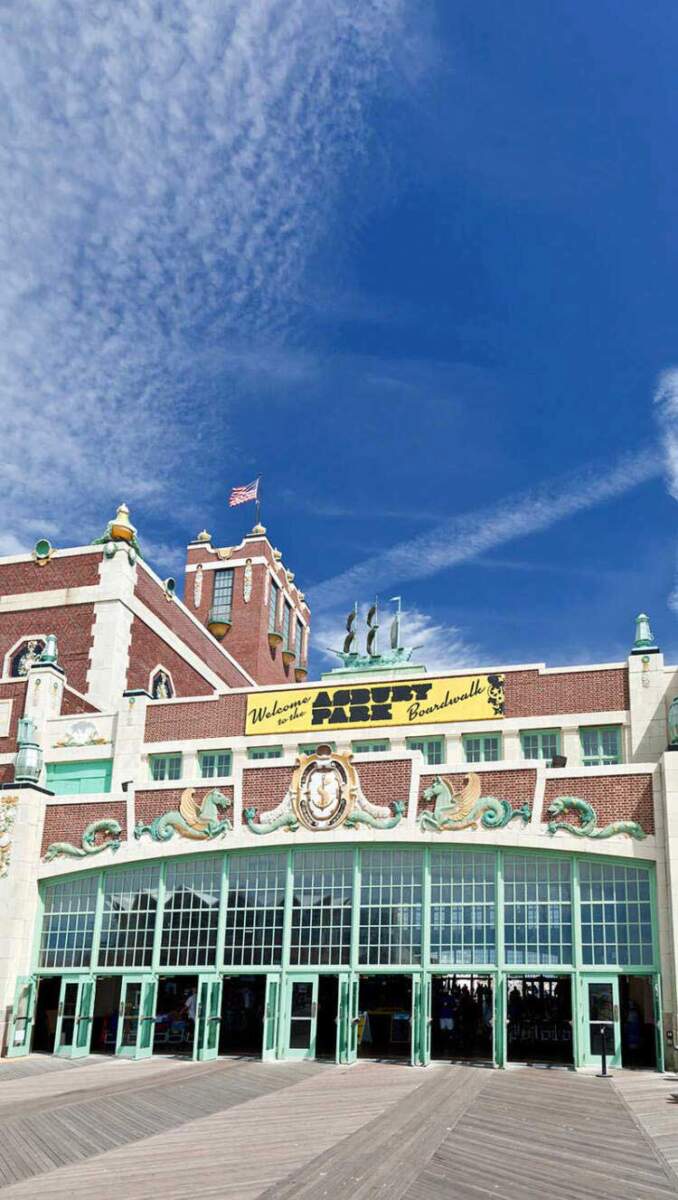 Asbury Park has quickly become one of the most popular destinations at the Jersey Shore. With a wide selection of trendy restaurants and shops on the boardwalk and downtown, there's something for everyone.
If you're planning an overnight stay, the Berkeley Oceanfront Hotel accommodates pets up to 30 lbs. and there are plenty of dog-friendly house rentals. Although the beaches are packed during the summer, dogs are welcome between 6 p.m. and 8:30 a.m. In the off-season (October 1st through May 15th), dogs are welcome on the boardwalk and on the 8th Avenue Dog Beach all day long.
If you're in town during the afternoon, attending "Yappy Hour" at the famous Wonder Bar is a must! There's a fenced-in outdoor area so dogs are free to socialize while their humans enjoy some drinks and mingling of their own. Don't forget to pack some dog treats to reward your pup for playing nice with their buddies!
Grab brunch the next morning at Toast, Johnny Mac's, Cross and Orange, or one of the many restaurants with outdoor seating for you and your dog.
The Asbury Park Convention Hall also hosts many dog-friendly events such as flea markets and craft fairs all year round. They hand-pick awesome vendors—many of which sell doggy products!

#8: Lake Placid, New York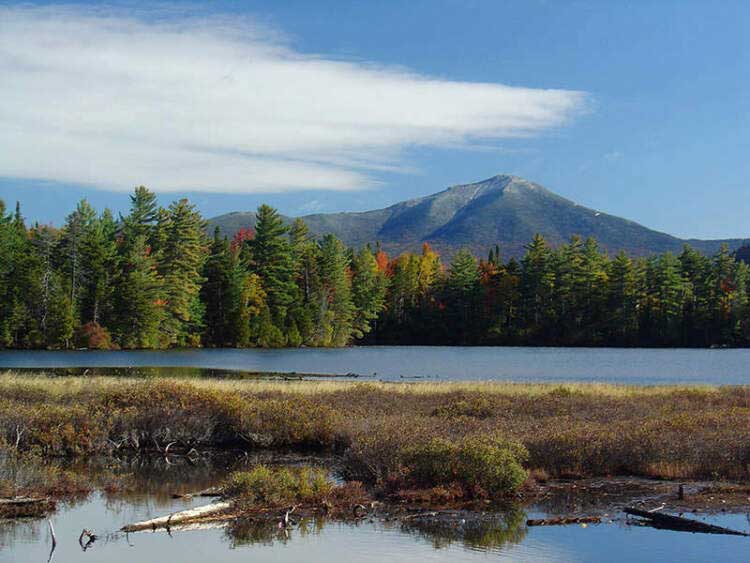 Lake Placid's setting in the Adirondack Mountains is perfect for outdoorsy dog-and-pet-parent duos in any season—you can go skiing, biking, fishing, and hiking all in one trip.
Stay at the Lake Placid Lodge, which welcomes well-mannered dogs and has beautiful waterfront and mountain views, porches to enjoy your morning coffee, and wood-burning fireplaces for cold nights. They even provide your pup their own bed and homemade treats. Is camping with your dog more your speed? There are dozens of cabins and campsites for RVs, tents, and trailers to accommodate you and your fur buddy.
You will also find several dog-friendly lakes and trails nearby where you and your four-legged friend can explore the great outdoors side by side. Visit Mirror Lake, where you and your fur kid can admire the lake on a 2.7-mile paved trail. Afterwards, take a stroll on the west side of the lake, where several shops will welcome your dog inside while you browse.

#9: Block Island, Rhode Island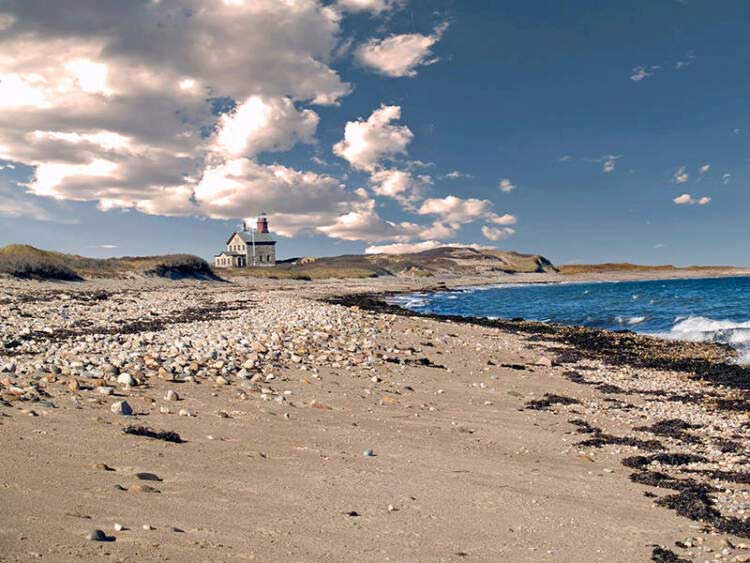 Block Island is a scenic dog-friendly vacation spot that boasts 17 miles of sandy beaches. It's best explored on foot or a bike, which is ideal for active dog parents. Most of the beaches are lenient about furry visitors, but you may want to avoid the main beaches on the east side of the island, which get crowded in the summer.
Leashed dogs are even allowed on the Block Island Ferry, which is a fun route to the island from the mainland. Several inns on the island welcome doggy visitors, along with many vacation rentals. Grab a smoothie at Juice 'n Java—they have water and treats on hand for your fur kid, too.

#10: Stowe, Vermont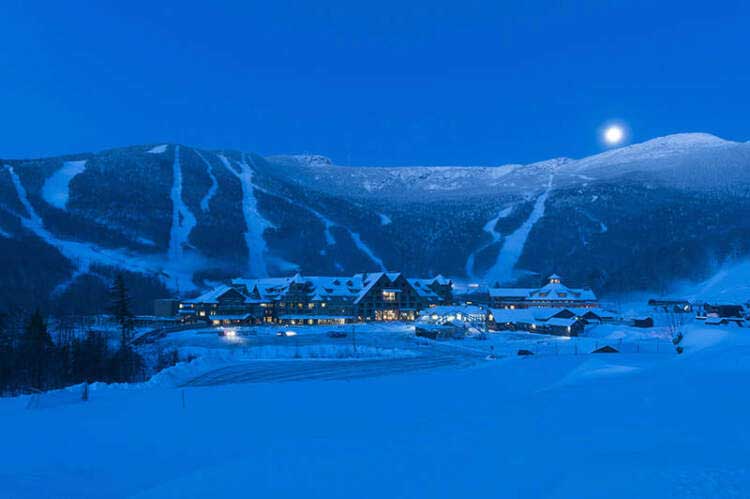 Despite "green" being in its name, the Green Mountains of Vermont are also a must-see when they're covered in bright fall foliage or blanketed in white snow.
The quaint village of Stowe offers miles of hiking trails for all skill levels and several campsites with rustic log cabins, some of which are dog friendly. Our favorite are the Muddy Moose cabins in Morrisville, which are slightly off the beaten path of the quaint shops and restaurants in Stowe village. These cabins allow up to 2 dogs for just an extra $15 per night, and they provide dog bowls and treats for your pups upon arrival.
There are several hiking trails surrounding these cabins, plus a recreation room filled with games, a wood-burning stove, and doggy art—you can really tell that the owners are dog people! Cozy up on the porch with your pup by your feet and coffee in hand while reveling in your mountain view.
Smugglers Notch State Park also offers incredible views of ponds, streams, and waterfalls for you and your four-legged traveler.
Once you crossed these dog-friendly vacations on the East-Coast off your bucket list, plan a trip to the other side of the country with our list of 8 dog-friendly vacation destinations on the West Coast.