Article
8 Dog-Friendly Vacation Destinations on the West Coast
Whether you're looking to lounge on stretches of sand with your dog by your side or take a scenic hike in the mountains, there are plenty of dog-friendly vacation spots spanning the West Coast. We chose these eight cities as the perfect getaways for dog parents near the Pacific.
#1: San Diego, California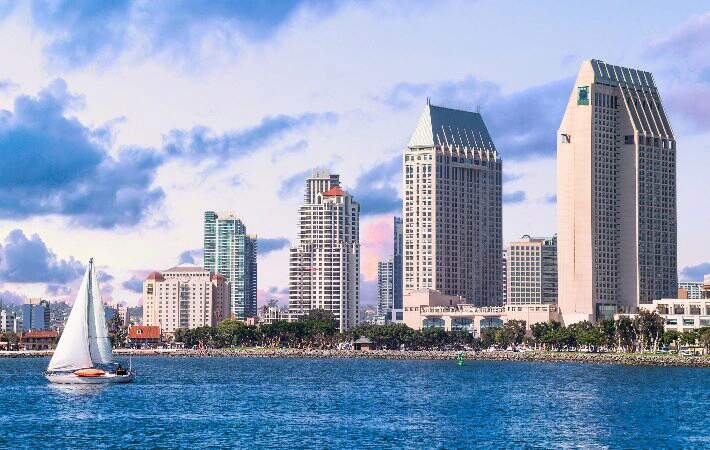 We're kicking off our list with one of the many dog-friendly vacations in California! You can't miss San Diego, where it's always 70 degrees, sunny, peaceful, and lined with perfect beaches for every type of beach bum.
Our favorite dog-friendly digs can be found at Kona Kai Resort, where up to two dogs can join you for an extra fee. Your furry friends will certainly feel the hospitality with perks such as the hotel restaurant's dog-approved food menu and the spa's "Spa & Paws" offering!
If you and your pup are feeling adventurous, visit the trail at the scenic Cabrillo Tide Pools; just make sure you go during low tide. The Original Dog Beach is another must—it's recognized as the first official off-leash dog park in the country!
#2: San Francisco, California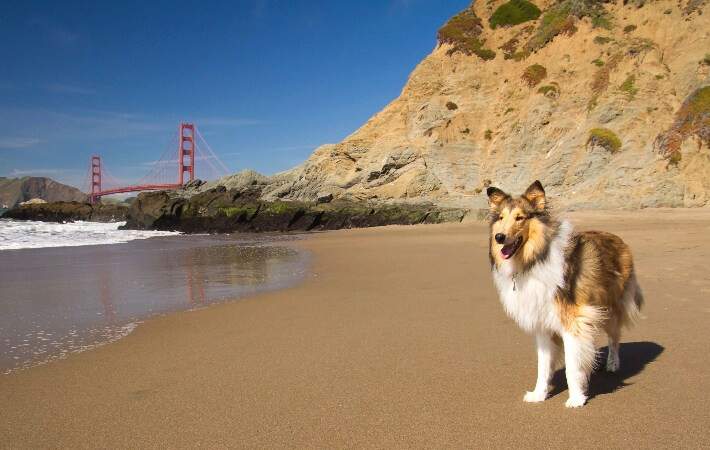 If relaxed city life and diverse dining is more your speed, head to trendy San Francisco! This dog-friendly vacation spot in California offers distinctive neighborhoods and endless iconic scenery such as the Golden Gate Bridge, Lombard Street, and Fisherman's Wharf. Speaking of which, the Argonaut is a boutique waterfront hotel located in Fisherman's Wharf that has a great pet policy: no size restrictions or extra charges!
Although San Fran is a populous city, a piece of nature is never far away. There are various trails and parks to enjoy with your dog, including the San Francisco Maritime National Historical Park and Fort Funston. After a nice walk, enjoy an outdoor meal at one of the many restaurants that welcome furry dinner dates.
#3: Portland, Oregon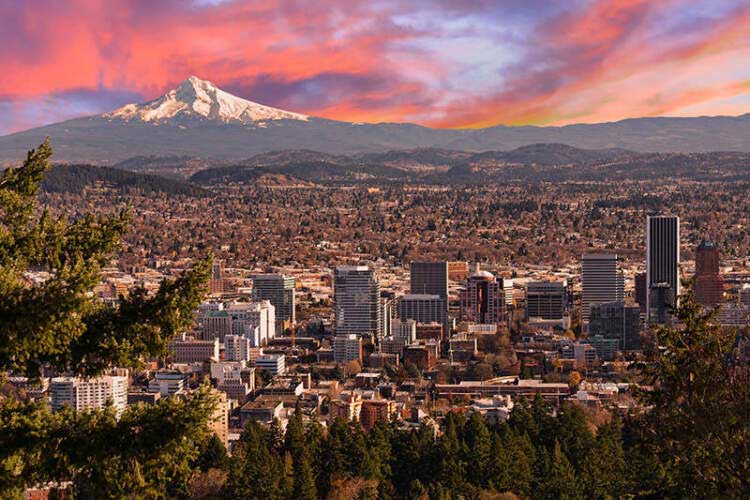 Portland is a dog parent's paradise! Dogs and humans of all kinds happily stroll about this city any time of day, and there are countless dog-friendly hotels and restaurants to choose from. Our pick is the downtown Hotel Vintage, where pets of any size are welcome for free.
Let your pup play around with some furry friends at Sellwood Riverfront Park, which has scenic riverfront views, a canoe launch, an off-leash dog area, walking paths, and picnic tables. Plus, with hundreds of restaurants and cafes in Portland, you and your furry friend will have a blast eating and drinking your way through the city!
#4: Orcas Island, Washington
This beautiful northwestern island has something for every dog–human duo: kayaking in the Puget Sound, climbing mountains with beautiful vistas, whale watching, and shopping. When you're not out and about, simply sit back and enjoy the naturally beautiful landscapes—there are plenty!
We recommend staying at the rustic West Beach Resort, where you can watch the sunset each night from beachfront cabins and cottages and enjoy a private beach fire pit.
You can't miss the island's designated dog park, which is located right next to the Port of Orcas Day Park. This park has water, waste bags, a doggy toy box, and picnic tables for all to enjoy!
#5: Seattle, Washington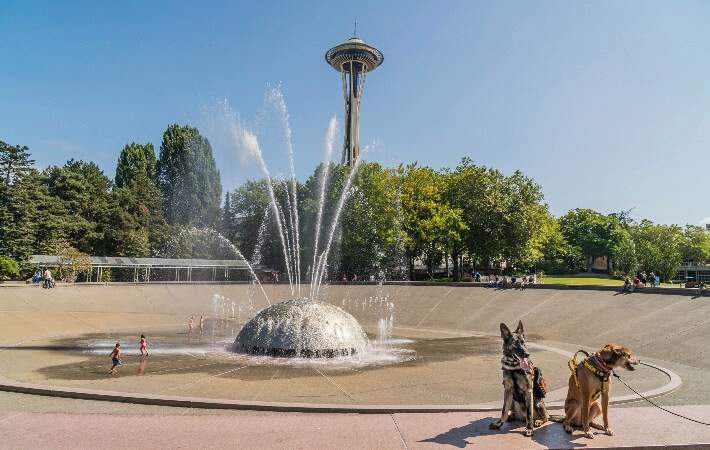 If you're seeking a dog-friendly vacation in an urban area, head to Seattle! Despite its industrial setting, you can find several dog parks in the Emerald City, including the Warren G. Magnuson Park off-leash dog park.
The Alexis Royal Sonesta Hotel is one of many dog-friendly hotels in the city. It's close to the waterfront and has cozy, den-like rooms with both modern and historic influences—best of all, pets are welcome at an additional fee! Upon check-in, the hotel provides pet beds, bowls, mats, and dog treats to make your pup's stay extra-special.
#6: Carmel-by-the-Sea, California
Rated the #1 Dog Friendly Town in America, Carmel-by-the-Sea is a natural choice for a dog-friendly vacation in California! Located on the Pacific Coast at the northern point of the Big Sur region, this picturesque town combines stunning beaches, scenic hiking trails, and a stylish shopping district. With dozens of shops, hotels, and restaurants that welcome dogs, you and your pooch have plenty of options for your coastal getaway!
Stroll down the packed dirt path that follows Scenic Road and take in some of the area's most popular views such as Carmel Point and Point Lobos State Reserve. Your dog can even enjoy the scenery off-leash at Mission Trails Park and Carmel Beach; they just need to be under your voice control. With Mutt Mitts provided at the top of every stair access along the beach, Carmel-by-the-Sea truly keeps furry friends in mind!
#7: Tucson, Arizona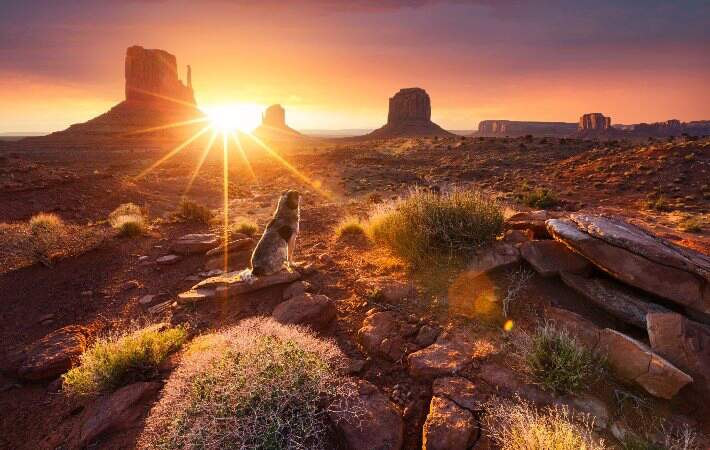 Explore the Southwest with your pup among the scenic valleys in Tucson! The Westward Look Wyndham Resort & Spa hotel is the perfect dog-friendly escape—it has spectacular views of the mountains, desert, and sunset.
Offering a paved path surrounded by trees and scenic desert landscape, Rillito River Park is a peaceful pit stop during a stroll in the city. We recommend going early in the morning or at dusk to help keep your dog safe in the heat, and make sure to bring plenty of water for you and your pup.
Once you've worked up an appetite, head to one of the many dog-friendly restaurants or breweries for whatever you're in the mood for—from watching sports to listening to live music.
#8: Vancouver, British Columbia, Canada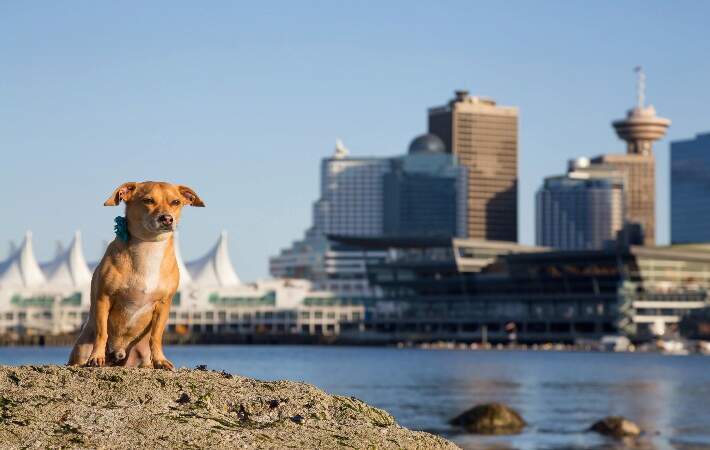 From tranquil mountains and beaches to bustling city life, Vancouver truly has it all—especially because it's a super dog-friendly city. Their transit system allows dogs, and a handful of beaches allow off-leash dogs, including Spanish Banks Beach Park, a large, popular beach with nice mountain views.
The Westin Bayshore, Vancouver is a pet-friendly hotel with a pretty waterfront setting. The best part: it welcomes up to two dogs and even provides a comfy bed for their stay!
You and your furry friend can take in the views of the coastline, distant mountains, and Stanley Park—the largest city park in Canada—where you can walk, jog, or bike the trails with your dog by your side. As with all our West Coast dog-friendly vacation picks, you can find several restaurants that allow you to outdoor dine with your dog.
No matter where you're traveling with your dog, remember to pack your furry adventure buddy plenty of treats and
chew toys
to enjoy along the way!