Article
How to Safely Take Your Dog on a Boat
Taking the boat out for a spin can turn an ordinary afternoon into a delightful journey...and welcoming aboard your furry first mate can make it even more enjoyable! In addition to experiencing the cool sea breeze and seeing new places, taking your dog on a boat offers a wonderful opportunity to spend some quality bonding time together.
While heading out on a boat will be a fun adventure for your furry friend, they will need some help getting used to this new environment. Learn how to keep your dog safe, comfortable, and happy as you prepare to set sail!
Dog Supplies for the Sea
While it may be tempting to take your dog on a boat right away, you will need to gather some important belongings to help ensure a safe trip. Don't leave the dock without these dog-specific items.
Life jacket: A dog-friendly life jacket should be the first item on your list! Look for one that features handles to help you get a grip on your dog if needed. The life jacket should also fit your dog comfortably enough for them to lie down and go potty without difficulty.
Bottled water and a bowl: Never let your dog drink from a body of water, as even freshwater sources can contain harmful bacteria. Pack plenty of bottled water instead to keep your dog hydrated—especially if you're heading out on a hot day. You should also pack a deep water bowl to minimize spills in case your boat rocks.
Sunscreen: Dog-friendly sunscreen will help protect your pooch's skin from the sun's ultraviolet rays. Lather your dog in sunscreen about 20 minutes before getting on the boat and make sure you cover their ears, nose, and other areas where they have little or no fur. Reapply throughout the day for maximum protection.
Potty supplies: You never know when your dog might need a potty break! Be prepared with waste bags, Wee-Wee® Pads, and an odor neutralizer to provide your dog a comfortable potty spot and help keep your boat clean. Training your dog to "go" on a pad will be valuable if you plan to spend hours at sea.
First aid kit: In addition to having a dog first aid kit at home, you should keep one on the boat at all times. The kit should include items such as antibacterial ointment, cotton balls, bandages, gauze pads, and tweezers.
Dog leash: You should always leash your dog when bringing them to and from the boat. You can even get a floating leash, which will be easy to grab in case your dog ends up in the water.
Chew toys, treats, and food: Dog treats are a great way to motivate your dog to board the boat and encourage positive behavior. It's also a good idea to have some of your pooch's favorite chew toys on hand to keep them comfortable and occupied while they get acquainted with their new surroundings. If you plan to spend several hours on the water, your dog may also need some kibble to tide them over.
RELATED: Keeping Your Dog Safe in the Summer Heat
4 Tips for Taking Your
Dog on a Boat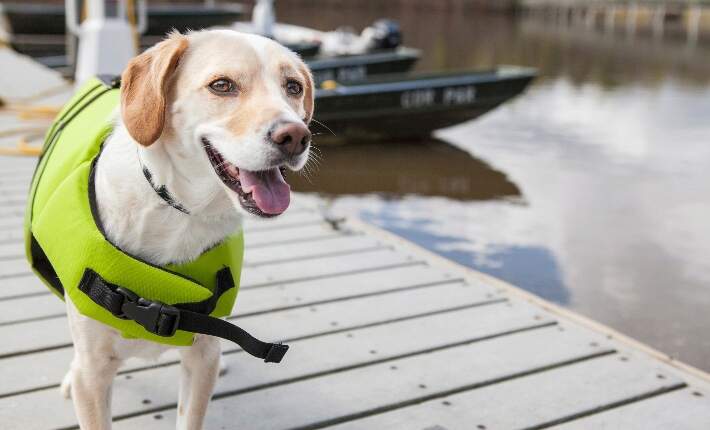 Once you gather your belongings and make sure the forecast is clear, it's time to go boating with your dog! Follow these tips to help your best friend get their sea legs.
Tip #1: Give Your Pup a Potty Break
Just as you would encourage your dog to go to the bathroom before a long car ride, it's equally important to let them go potty before a boat trip. Some dogs may not feel comfortable relieving themselves on a boat at first (even if they're trained to use dog pee pads), so taking your pooch to go potty beforehand is a wise choice.
Tip #2: Guide Your Dog into the Boat
Leash your dog and put them in their life jacket when you arrive at the dock. Give them a few minutes to get used to their life jacket, and then start walking toward the boat together. If your pup is hesitant to step in the boat, get in the vessel and entice them with a treat to hop aboard. You can also have a friend or family member stand in the boat with the treat if you are traveling with others. Once your dog gets in, give them the treat and lots of praise!
The boat will be an entirely new setting for your dog, so allow them to explore for a bit. Once your dog settles down, provide them a shady area to relax such as under an awning or below deck to protect them from the sun. Put your furry friend's toys there to let them know it is their very own spot.
Tip #3: Leave the Dock…Slowly
Your dog might be afraid of the boat motor's sound, so remain calm to set a positive example. Reassure your pooch that everything is okay, and have somebody stay with them for the first few minutes of the trip if possible.
Gently hit the gas when you leave the dock to slowly ease your dog into the journey and provide the smoothest ride possible. Your fur pal may show common signs of seasickness as you head away from land, such as whining, excessive drooling, or vomiting. Don't feel discouraged if your pooch exhibits these symptoms! Many dogs and people alike experience seasickness, but fortunately it usually becomes less prominent after multiple boat trips.
Tip #4: Keep Your Eyes Open
You and your dog will be venturing beyond the shore before you know it! To ensure their safety and monitor for signs of heat exhaustion like panting, keep an eye on your pup. Make sure they stay hydrated and, if possible, limit constant sun exposure. A shady area or indoor space will help prevent overheating.
Going fishing? Secure all hooks and other sharp objects to make sure your pup cannot get to them. Some dogs may try to retrieve a fishing line when it is thrown into the water, so keep your fur pal close by when you drop the line.
Preparing for an Overboard Accident
It's smart to have a plan in case something goes wrong when boating with a dog. Don't panic if your furry friend falls off the boat; their life jacket will keep them above water and easily visible. Avoid jumping in after your dog, as they may panic and dunk you underwater. Instead, gently pull the boat up next to your dog and grab the handles on their life jacket while you are still in the vessel. Then, pull them aboard and cuddle them if they are startled.
Heading Home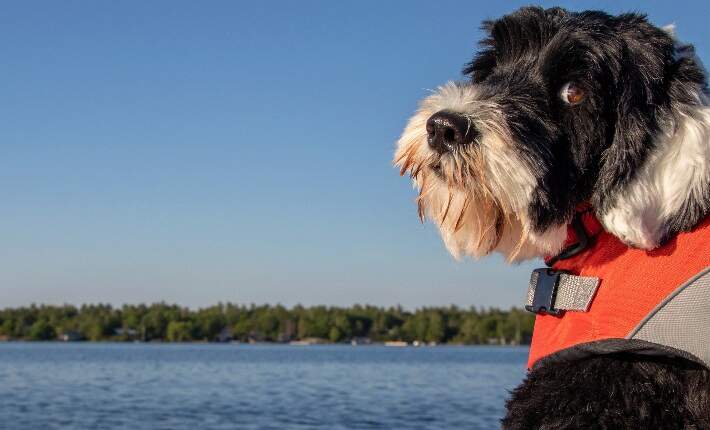 When you're ready to return to shore, leash your dog before you get to the dock. Your furry friend may have to go to the bathroom and try to race off as soon as you get to land, so leashing them will help you maintain control. Let your pup go potty as soon as you find an appropriate spot on land and give them a treat for making it through their first boat trip!
Ready to Sail Away?
Going boating with your dog offers a unique opportunity to introduce them to sights and smells they've never experienced before. It might take a few tries before your pup gets the hang of this new special activity, so be patient as they become familiar with the boat. Anchors away!