Article
14 Classic Songs About Dogs
Dogs make quite an impression on our lives, and it's no surprise that they've made their way into some of our favorite songs, too! From rock to pop to R&B, four-legged friends have inspired musicians for decades, and many pup-related tunes remain relevant to this day.
Keep reading to learn about some of the most famous songs about dogs...and check out our curated Spotify playlist for our top picks!
#1. I Love My Dog – Yusuf / Cat Stevens
Yusuf / Cat Stevens' first ever single, "I Love My Dog," is a folk-rock melody released in 1966. The lyrics chronicle the unconditional love that the songwriter's dog shows him, and he comically compares it to the love shared between two people—but better.
In an interview with Mojo magazine, Yusuf / Cat Stevens revealed the song was inspired by a Dachshund he found outside of a bookshop as a child. After taking the "sausage dog" home, he grew very attached to it.
#2. Atomic Dog – George Clinton
Bow-wow-wow-yippie-yo-yippie-yeah. Need we say more? Released in 1982, this funky R&B hit features panting, barking, and many dog-related metaphors. Maintaining cult-like status, it's been sampled in several hip-hop songs and featured in various film trailers including ones for 102 Dalmatians, Hotel for Dogs, and Scooby-Doo: The Movie.
#3. I Want a Dog – Pet Shop Boys
It's said that English duo "Pet Shop Boys" took their name from friends who worked at a pet shop. If that wasn't enough of an animal reference for you, this 1987 dog song is all about wanting a pup to return home to at night! Dogs make terrific companions, and this electronic tune even namedrops a specific breed—the Chihuahua.
#4. Seamus – Pink Floyd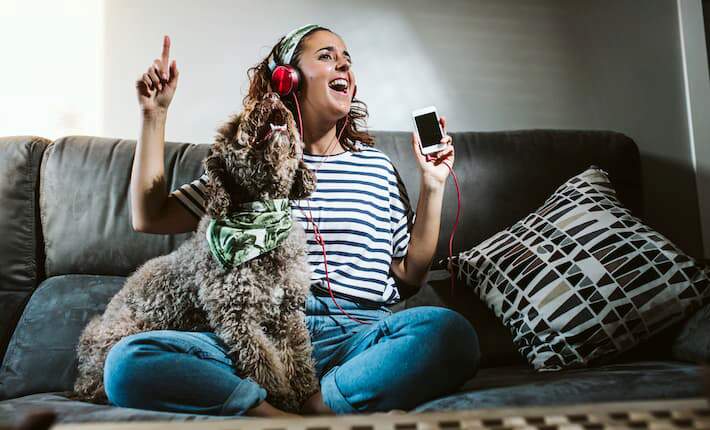 The final A-side track on the 1971 album Meddle, "Seamus" is named after the Border Collie who howls throughout this blues-inspired ditty. He belonged to Humble Pie frontman Steve Marriot, who was amazed to learn of his four-legged friend's love for singing, according to Comfortably Numb—The Inside Story of Pink Floyd by Mark Blake.
This song was only performed live once for the 1972 documentary Pink Floyd: Live at Pompeii. Instead of Seamus, a Borzoi named Nobs provided the howling accompaniment.
#5. Quiche Lorraine – The B-52's
Quiche Lorraine isn't just the name of a savory French tart...it's also the name of a stylish Poodle sung about in this eccentric 1980 party tune by The B-52's! The lyrics state that Quiche Lorraine has dark green fur and wears sunglasses, a bonnet, and designer jeans with appliques on them. Not only that, but she leaves her pet parent in favor of a Great Dane (gasp)!
#6. Rover – Jethro Tull
Heavy Horses, the eleventh studio album by British progressive rock band Jethro Tull, features multiple songs written from the perspective of animals such as farm cats, horses, mice, and moths. Of course, Jethro Tull couldn't forget about our favorite furry friends and wrote the 1978 "Rover" from the point of view of a loyal, obedient pooch.
#7. Me and You and a Dog Named Boo – Lobo
Lobo's debut 1971 single is about two free-spirited individuals (and their dog named Boo!) who travel across the country together in an old automobile. Along the way, they live off the land and take odd jobs to make ends meet. The track's title takes inspiration from Lobo's German Shepherd Boo, who ran toward him while he wrote the song.
#8. (How Much Is) That Doggie In The Window – Patti Page
Patti Page's rendition of "(How Much Is) That Doggie In The Window" reached No. 1 on the Billboard Charts in 1953, staying there for eight straight weeks. The original recording of the popular novelty song even included dogs barking, credited on the label as "Barks by Joe and Mac."
Page recorded an updated version of the song in 2009 titled "Do You See That Doggie in the Shelter" to raise awareness for shelter animal adoption. The rights to the song were given exclusively to the Humane Society of the United States.
#9. A Dog's Life – Elvis Presley
In the 1966 film Paradise, Hawaiian Style, Elvis sings this comical tune while flying an airplane. If that's not impressive enough, "The King" is also shown surrounded by multiple large dogs in the cockpit! This is fitting as the song's lyrics touch upon the desire to live the life of a pampered pooch, being constantly loved and cared for.
#10. Bron-Yr-Aur Stomp – Led Zeppelin
Rather than having a dog-related title, this song takes its name from Bron-Yr-Aur, a cottage in Wales where members of the band wrote much of the album Led Zeppelin III. The country-influenced song is about walking in the woods with lead singer Robert Plant's blue-eyed Border Collie named Strider, according to The Complete Guide to the Music of Led Zeppelin by Dave Lewis.
RELATED: Do Dogs Like Music? 3 Playlists They'll Love!

#11. Walking the Dog – Rufus Thomas
A merry tune beloved by both children and adults, Rufus Thomas' 1963 hit makes multiple references to nursery rhymes including "Miss Mary Mack." The R&B dog song may be best known, however, for the whistling noises that call to Thomas' four-legged friend throughout. It has been recorded by several artists including The Rolling Stones, Aerosmith, and Green Day.
#12. Old Blue – The Byrds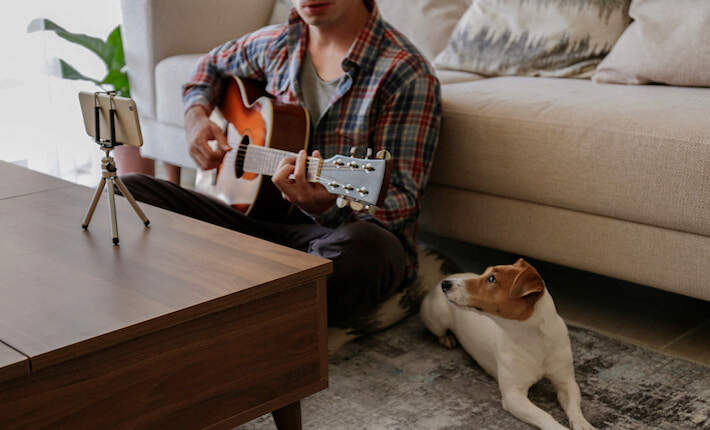 "Old Blue" is a traditional folk song that has been covered by numerous musical artists. One of the most popular variations was recorded by folk-rock band The Byrds in 1969. Their version features the first appearance of the StringBender, an invention that allowed the group's guitar player to duplicate the pedal steel guitar's sound on his Fender Telecaster.
#13. Martha My Dear – The Beatles
While many listeners believed this song to be written about a love interest, Beatles frontman Paul McCartney revealed in a 1997 interview that he wrote this song about his Old English Sheepdog puppy, Martha, whom he brought home in 1965.
In fact, McCartney is quoted as saying, "Whereas it would appear to anybody else to be a song to a girl called Martha, it's actually a dog, and our relationship was platonic, believe me," according to Far Out Magazine.
#14. The Puppy Song – Harry Nilsson
Nilsson wrote this upbeat tune at the request of Paul McCartney for Mary Hopkin; a young singer McCartney had just signed to his Apple Records label. It was recorded by Hopkin in 1968 and then by Nilsson a year later. The lyrics tell the story of a child who longs for a puppy of their own.
Life Without Dogs Would ♭ Flat
Dogs are more than just our best friends—they're a tremendous source of inspiration! Dating back to ancient times, dogs have encouraged humans to create extraordinary compositions like paintings, pottery, poems, and yes—music. So put on our Spotify playlist for some motivation and start writing the next big hit!