Article
5 Birthday Gift Ideas For Your Dog
They grow up so fast, don't they? Your dog's birthday is here again, and it's time to pick out the perfect present to make their day as special as they are! Here are five dog birthday gift ideas that any furry friend will be thrilled to unwrap.
#1: Powered-Up Dog Toys for the Playful Pooch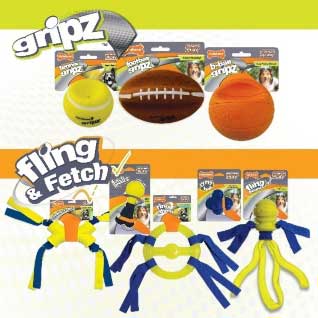 There is nothing more exciting than opening a birthday gift and immediately wanting to play with it! That's how your dog will feel when you give them one of the awesome play toys in Nylabone's Power Play Series!
These next-level dog toys include the sports-inspired Gripz™ collection and fun Fling & Fetch toys that are perfect for both indoor and outdoor play. Featuring easy-pickup shapes, enticing squeakers, durable canvas tassels, and more, each toy offers its own special features that will challenge your dog to play like never before!
If your furry friend enjoys fetching and chasing tennis balls, footballs, and other sports balls, then they'll love Gripz toys. We took traditional balls that dogs love and specially designed them with innovative indented shapes to make them easier for our fur friends to pick up and carry.
Looking to reinvent your average game of toss and chase? Our Fling & Fetch toys are designed for multiple types of play patterns. From the floating Ring Thing™ with its tug 'n tease tassels to the Fling-a-Bounce™ with its launch loop for longer-distance throws, the Power Play Series makes any dog an MVP!
#2: Dental Chew Treats for the Practical Pup
When it's your birthday, you want to look and feel your very best—and that includes a sparkling smile! Treat your dog to Nutri Dent® Limited Ingredients dental chew treats for a gift you both can enjoy.
Your four-legged friend will love these natural, delicious treats and you will love the fresher breath and cleaner teeth that come afterward! Our limited-ingredient formula does not contain any artificial colors, flavors, or preservatives. Plus, our patented 360-degree design with scrubbing nubs combines with your dog's chewing action to help reduce plaque and tartar buildup. Available in fresh breath or filet mignon flavor, these dental chew treats are the gift that keeps on giving.
#3: Delicious Dog Biscuits for the Mindful Snacker
Everybody knows the best party treats are crunchy and delicious…but nutritious, too? High paw!
Healthy Edibles® Biscuits are natural, oven-baked dog biscuits that are grain free and don't contain any artificial ingredients. These highly digestible treats are made with limited ingredients and come in four varieties that are sure to please your party pooch.
The wholesome Beef & Veggie dog biscuits are made with protein-rich real beef liver, plus carrots for antioxidants and peas to support a healthy heart. Or, choose the classic flavor combo of Peanut Butter & Apple, which is made with real peanut butter for protein and delicious apple flavor for fiber. No matter which you choose to gift your dog, each USA-made biscuit includes a break point in the center for smaller-sized rewards throughout the big day!
#4: Long-Lasting Chew Treats for the Natural Chewer
We spend weeks anticipating our birthday, and just like that—the day flies by! Encourage your dog to slow down and savor the flavor of Nylabone Healthy Edibles. These long-lasting chew treats come in multiple varieties that are sure to satisfy whatever tastes your dog is craving on their special day.
For the days your dog prefers flavors that are nutty more than meaty, Healthy Edibles Peanut Butter chew treats are a delicious option. Made with allergen-free peanut butter, these highly digestible chew treats are made with natural ingredients—no added salt, sugar, or added preservatives!
When your birthday bud craves big and bold flavors, Healthy Edibles Bully Chews are the perfect gift option. These all-natural chew treats are made with real bully stick, offering irresistible flavor and a wholesome source of protein. They include limited ingredients and are proudly made in the USA!
Your dog is sure to start another year around the sun right with Healthy Edibles Broth Bone Chew Treats. Packing big flavor and health benefits into one tasty chew treat, they offer the rich taste of ham in every bite and are made with real bone broth that is rich in amino acids to help aid dogs' joints, bones, and immune system health.
For more perfect present ideas, check out all the USA-made Healthy Edibles varieties. From bacon to venison flavors and classic bones to fun farm-animal shapes, there is a long-lasting chew treat sure to keep your dog's tail wagging.
#5: Chew Toy & Treat Combos for the Dog Who Loves the Best of Both Worlds
What's better than a long-lasting chew toy boosted with the delicious flavor of chew treats?
The Power Chew Knuckle Bone Combo will give your dog the ultimate birthday chewing challenge! Taking everything your dog loves about their Nylabone to the next level, this long-lasting chew toy is made of sturdy nylon that stands up to the most aggressive chewers, helps clean teeth, and features delicious chicken flavor throughout. Refill it again and again with All-Natural Pop-In™ Treats for treat and chew time that lasts longer and tastes even more delicious!
Whether you choose to fill your pup's goody bag with bite-sized biscuits or the ultimate fling & fetch toy, any of these dog birthday gift ideas are sure to make your furry friend's year the best one yet!