Article
Choosing the Best Dog Treats for Your Furry Friend
To put it simply, dogs love treats. And as pet parents, we love to treat our dogs—from providing a delicious way to clean their teeth to rewarding them when they master a trick. Plus, as you use treats to show your appreciation for your pup, you reinforce good behavior and help strengthen the bond you share. Along with a variety of flavors, shapes, and sizes, each type of dog treat provides different benefits and purposes. Learn how to choose the best dog treats for training, long-lasting enjoyment, and beyond.
Crunchy Treats and Biscuits
When you hear "dog treats," you probably think of small treats and biscuits. These baked snacks often come in a compact size and feature a satisfying crunchy texture, making them tasty rewards for your best friend.
Look for wholesome options made with all-natural, grain-free, and limited ingredients. Many varieties are even made with real proteins and veggies for flavor dogs love.
Soft Treats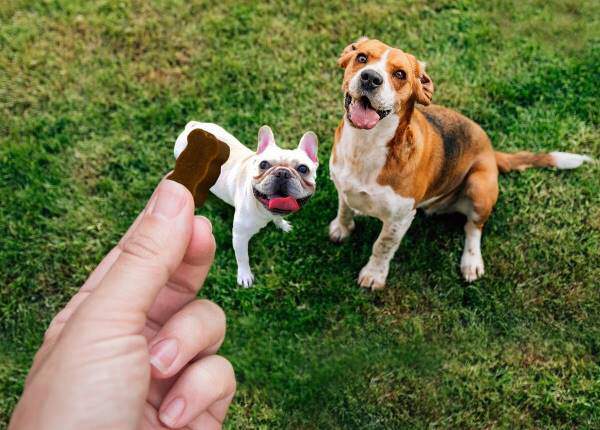 From housebreaking to
advanced dog training
, soft treats make the ultimate training reward because these delicious, small bites provide instant gratification. Plus, they are easy to break apart, meaning you can offer your dog praise multiple times during a training session.
These chewy treats are often great options for senior dogs because they are gentle on teeth. It's ideal to choose
soft dog treats
made with natural ingredients and free from artificial preservatives.
Dental Treats
In addition to benefiting your dog's teeth and gums, regular dental care also affects your best friend's overall wellness because it helps reduce the risk of periodontal disease, according to the
American Veterinary Medical Association
. Incorporating dental treats into your dog's oral care routine can help keep their smile in tip-top shape!
Our
dog dental treats
are designed with shapes and features specifically to help clean teeth, such as 360-degree scrubbing nubs. Along with reducing plaque and tartar buildup, these treats provide dogs a tasty, long-lasting snack.
Search for dental chew treats made with quality ingredients and ideally, varieties that are veterinarian recommended. While they are one of the best dog treats for oral health, they are still treats—so limit your dog's intake.
Jerky Treats
We humans aren't the only ones who get to enjoy savory jerky snacks! Jerky treats for dogs are made of dehydrated meats, fish, fruits, or vegetables, offering the appetizing flavors our furry friends naturally crave. Through the dehydrating process, moisture is removed to preserve the food while retaining key vitamins and minerals. Because of the lower water content, this type of dog treat is typically tough or chewy, which provides an appealing texture.
Give your furry friend a
dog jerky treat
that is premium quality, low in fat, and made with real ingredients. Meat and fish jerkies are especially high in protein!
Long-Lasting Chew Treats

What are some of the best dog treats for furry friends who love to chew? Long-lasting chew treats, of course! These tasty rewards keep dogs occupied and happy, offering everything a pup and their pet parent can ask for. They are also ideal for helping dogs fight boredom; for example, when you have a busy day working from home and can't give your best friend as much attention as usual!

Look for high-quality options such as Natural Nubz® chew treats. These USA-made, long-lasting chew treats are highly digestible and free from artificial colors, flavors, and preservatives for guiltless enjoyment.
Natural Animal Parts
It's simply in dogs' nature to crave treats made from real animal parts such as bully sticks, beef hide, and pig ears. In addition to satisfying every dog's primal urge to chew, natural animal parts help clean teeth as dogs chew. These treats are typically long lasting, which keeps dogs occupied and helps prevent destructive chewing. Some popular natural parts for dogs include:


Bully Sticks and Piggy Sticks: Single-ingredient bully sticks and piggy sticks are available in various sizes and shapes. They are highly digestible and high in protein.
Beef Hide: From all-natural to varieties with tasty flavors, beef hide chews satisfy tough chewers. Popular shapes include curls, retriever rolls, and chips.
Beef Shin Bones: Beef shin bones provide an entertaining chewing challenge for extreme chewers and are often stuffed with tasty fillings dogs love.
Cow Ears and Pig Ears: Cow ears and pig ears are often oven roasted to bring out their natural savory flavor. They're high in protein and low in fat, providing a healthy treat.
Homemade Treats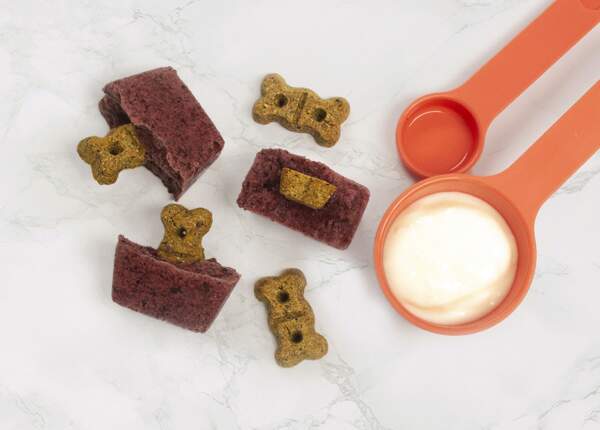 Sometimes there's nothing as satisfying to us as a homemade goodie…and the same goes for dogs! There are plenty of dog-friendly treat recipes out there for you to follow. From frozen dog treats ideal for warmer weather to festive dog treats during the holiday season, some of the best dog treats are made with love.

No matter what kind of treat you make your pup, be sure to include dog-safe foods such as sweet potatoes, bananas, and carrots while staying away from toxic foods for dogs including raisins, onions, and anything with Xylitol. Also be mindful of the ingredients, size, and calories to meet your furry friend's specific needs.


Treating Tips
Be sure to follow best practices when giving your furry friend any treat. This means always feeding treats as a supplemental reward and not as a meal replacement. Reward your dog in moderation and ensure you find what the best dog treats are for your pup's size and weight. Of course, you should always supervise your dog while they are enjoying a treat, too!

Discover our wide variety of chew treats for more healthy ways to reward your four-legged friend.