Article
12 Healthy Dog Snacks (and 2 Recipes!)
When it comes to snack time, the only thing harder than keeping yourself from taking one more cookie is saying "no" to your pup's plea for a treat. After all, how could you resist that burst of joy your dog shows when you toss them a treat? Well, we have good news for both of you; some of the most nutritious doggy snacks are also some of the most delicious!
From wholesome dog treats to pup-friendly fruits, vegetables, and recipes, we compiled a list of the best healthy dog snacks you can give your best friend without feeling guilty. Dig in!
Healthy Snacks from the Shelf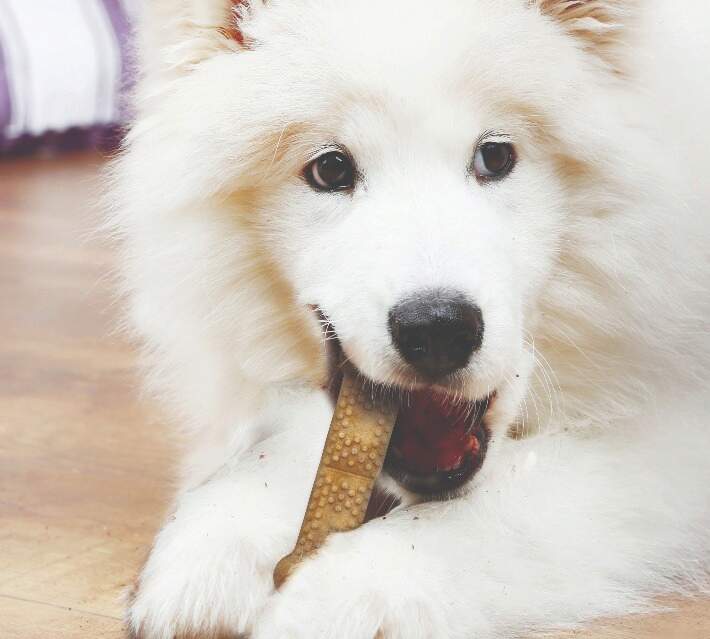 Whether you're choosing a wholesome treat for training, rewarding, or just because, there are plenty of dog-approved choices that combine nutritious benefits with paw-some flavor. Check out these healthy snacks the next time you shop for your pup.
Natural Nubz™ Chew Treats
What's better than a treat with delicious flavor and natural ingredients? A delicious, natural treat that lasts! Natural Nubz chew treats contain healthy ingredients and tasty flavors such as chicken, bacon, and peanut butter. They're highly digestible and do not contain any artificial colors, flavors, or preservatives, giving your dog a nourishing snack they won't want to pass up.
Many varieties also include limited ingredients, a center break point for portion control, and raised nubs to help clean teeth and gums as your dog chews. As an added bonus, Natural Nubz chew treats come in multiple sizes and fun shapes.
Healthy Edibles® Chew Treats
From long-lasting indulgences to quick rewards during training, Healthy Edibles chew treats come in a wide range of shapes, sizes, flavors, and textures. No matter which variety you choose, all are highly digestible and contain only the finest ingredients. Best of all, they're a great source of wholesome nutrients!
If you're looking to train your dog, our soft and chewy sticks easily break apart for multiple, smaller rewards. Pooches who need something more occupying love our longer-lasting chew treats for just about any occasion.
Cadet® Gourmet Sweet Potato Steak Fries
People aren't the only ones who love savory yet sweet combos; dogs are big fans, too! Gourmet Sweet Potato Steak Fries from our friends at Cadet are made with just one ingredient: 100% real sweet potato. These healthy, satisfying snacks are rich in vitamins and antioxidants for a natural treat dogs crave. Whether you have a "let's hike" furry friend or a "let's chill" pup, these low-fat snacks are a wholesome way to support their lifestyle.
RELATED: Choosing the Right Food for Your Dog
Wholesome Homemade Dog Treats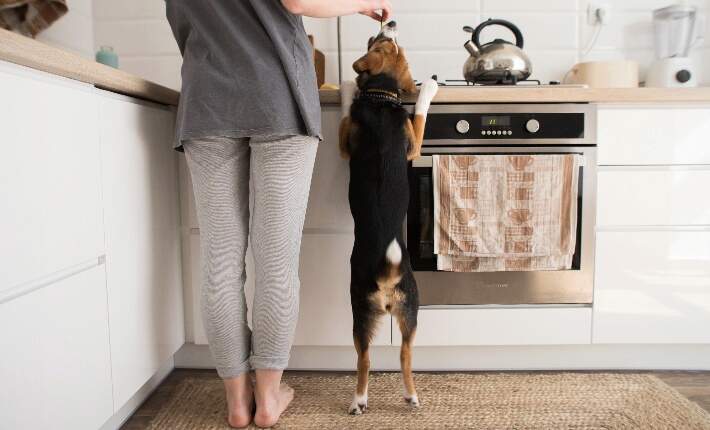 Your dog loves to be spoiled just as much as you enjoy spoiling them! For those times when you want to do something extra-special for your furry friend, roll up your sleeves and surprise them by making one of these nutritious homemade dog treats.
Peanut Terrifics
What pooch doesn't love peanut butter? Peanut Terrifics make great training and reward treats that are heavy on flavor and light on calories. Just be sure to stay away from peanut butter that contains xylitol (also known as birch sugar), which is a chemical compound that's highly toxic to dogs. Natural, unsalted peanut butter is best for your pup.
What you'll need:
½ cup water
3 tablespoons dog-friendly peanut butter
1 ¼ cups whole wheat flour
Instructions:
Preheat your oven to 350°F. Then mix all the ingredients thoroughly in a bowl together. Spread the doughy mixture evenly on a baking sheet and cut into desired shapes such as dog bones or pawprints. Bake for 30 minutes or until lightly browned and crisp.
Jumping for Jerky
Your furry friend doesn't have to be a trailblazer to enjoy this rustic snack! Blackstrap molasses adds a naturally sweet and healthy twist to this homemade jerky treat, containing iron and calcium. The jerky takes 4–5 hours to dehydrate, so this is something you'll want to prepare well in advance of your dog's snack time.
What you'll need:
¼ cup blackstrap molasses
1 tablespoon dried rosemary
1 lb. lamb or venison, sliced into thin strips along the grain with fat removed
Instructions:
Combine the molasses and rosemary in a large bowl. Add the meat and stir, making sure it is all covered with the marinade. Leave to marinate 1–2 hours in the refrigerator. Then line a baking sheet with foil and place a wire rack on top. Lay the marinated meat strips on the wire rack and brush with the remaining marinade. Preheat your oven to 225°F and let the jerky cook for 4–5 hours. Allow the jerky to cool and store for up to 5–7 days in an airtight container in the refrigerator.
Healthy Fruits and Vegetables for Dogs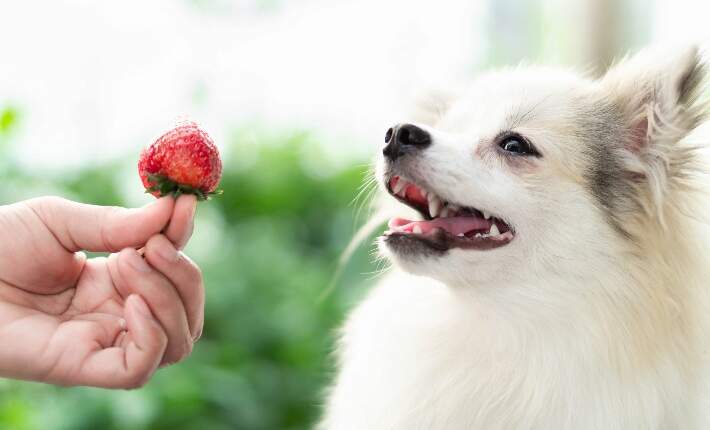 When you don't have any pup-specific snacks on hand, fruits and veggies make excellent healthy dog snacks in a pinch. These go-to favorites are great for pooches and people alike!
Apples
High in fiber and vitamins A and C, apples are a quintessential healthy dog snack. Plus, their low fat content makes them a great treat for dog weight management. Don't forget to remove the seeds and core before feeding apple slices to your dog.
Cantaloupe
This sweet melon is another great low-calorie snack for furry friends. Cantaloupe is particularly high in fiber, which aids in digestion. It does have a lot of sugar, though, so be sure to feed in moderation.
Oranges
A refreshing and citrusy snack, oranges are loaded with vitamin C, fiber, and potassium. Just be sure to remove the peel before giving to your dog.
Strawberries
Not only are strawberries delicious to dogs, they are great for your fur pal's immune system! They also contain antioxidants and potassium, both of which are important to overall health.
Watermelon
A refreshing piece of watermelon is a great way to help hydrate your dog on a hot day, offering vitamins A, B6, and C. Choose a seedless variety for your pooch and remove the rind, which could lead to gastrointestinal upset.
Brussels Sprouts
These crunchy, leafy snacks are some of the healthiest vegetables for dogs! Brussels sprouts contain vitamins K and C, which are beneficial to a dog's immune system and bone health, according to Rover. Serving Brussels sprouts raw can cause digestive problems; instead, steam or boil them for your best friend.
Carrots
Speaking of crunchy veggies, carrots are another popular pick among dogs. Furry friends love their crisp texture, which can actually help clean teeth as your dog chews, according to the American Kennel Club. High fiber and beta-carotene content headline carrots' nutritional value for pups.
Celery
Dogs can eat celery raw or cooked, giving your furry friend a few ways to enjoy this wholesome treat. It contains vitamins A, C, and K plus potassium and folate…and it's fat free! Celery can also help clean teeth as your dog chews, according to Healthy Paws Pet Insurance.
Green Beans
What makes green beans a nutritious vegetable for dogs? These classic veggies offer iron, calcium, protein, fiber, and a variety of vitamins! Serve them to your dog plain and avoid canned green beans with added salt, oils, or spices.
Healthy Is Happy!
Wholesome snacking isn't limited to bland, boring foods. In fact, the list of deliciously healthy snacks for pups is as robust and well-rounded as the beneficial ingredients they contain. Your fur pal will thank you for choosing these tasty treats!
Sources
i Jonna Anne, Mary Straus, and Shawn Messonnier, The Healthy Dog Cookbook (Neptune City: T.F.H. Publications, 2008), 24-25.
ii Stephanie Mehanna and Robert S. Goldstein, PupSnacks (Neptune City: T.F.H. Publications, 2007), 26.