Article
50 Best Dog Halloween Costume Ideas for 2022
"What should my dog be for Halloween?"
It's a common question many pet parents ponder once the calendar flips to October. After all, showing off your festive furry friend in their adorable costume is probably one of the most memorable moments you and your dog will make this year. That's why we want to help you pick out the best dog Halloween costume for your pup. Whether you're looking for DIY ideas to spark your creative genius or trendy costume ideas based on this year's hottest topics, we've got you and your dog covered.
Here are 50 dog Halloween costume ideas to consider for 2022.
Classic Halloween Costumes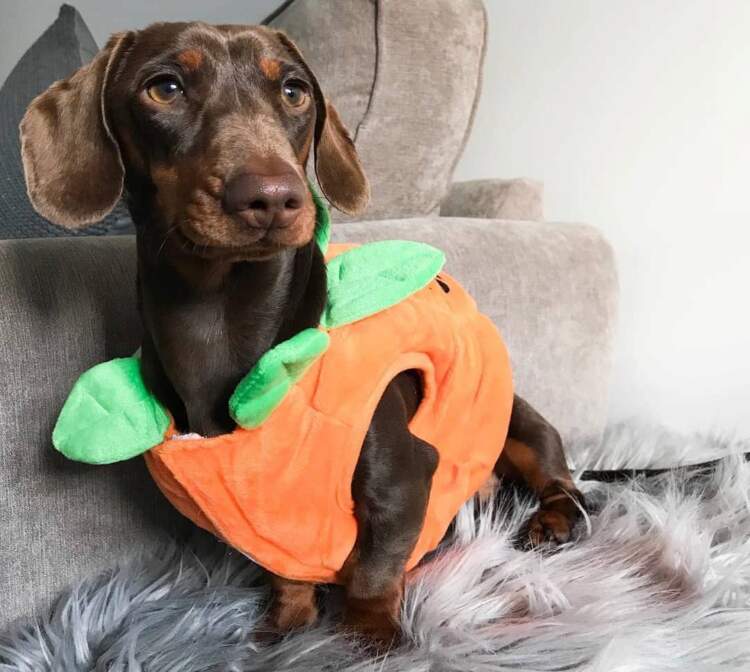 Photo: @reggietheminidax on Instagram
Who doesn't love old-school Halloween costumes? Dressing your dog in a holiday classic will pump you both up for the spooky season and get you into the orange-and-black spirit. (Scary movie marathon, anyone?) You can't go wrong with these quintessential Halloween favorites.
Devil
Ghost
Jack-o'-lantern
Vampire
Witch
Food Dog Costumes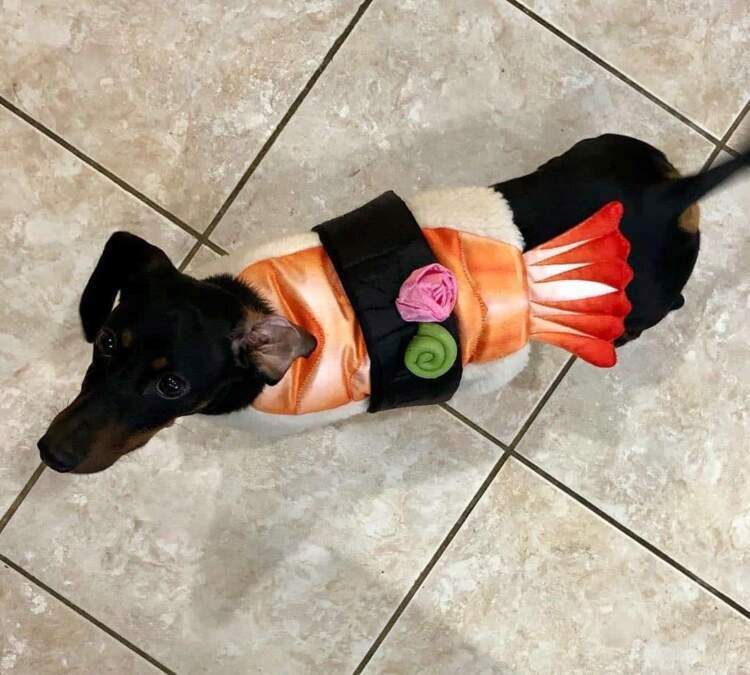 Photo: @kristenicole76 on Instagram
Like many of our furry friends, food-themed getups are funny, cute, and downright goofy. Try one of these culinary dog Halloween costume ideas and you've got a recipe for lots of laughs! Don't forget to reward your pup with a tasty dog treat after you get them into one of these costumes.
Avocado
Corn dog
Hot dog
Pizza slice
Sushi
Taco
Pet Parent and Dog Couples Costumes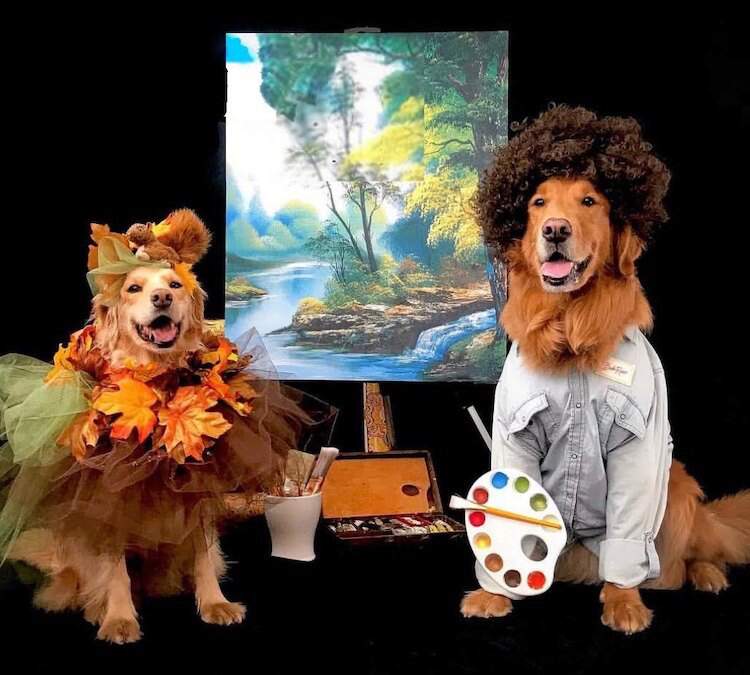 Why not coordinate costumes? Whether you want to dress both your furry friends or match your own costume to your dog's costume, there are lots of possibilities. You can also reverse the roles and dress as a dog yourself!
Astronaut and rocket
Bob Ross and scenery
Cowboy and horse
Pilot and flight attendant
Pirate and skipper
Thing 1 and Thing 2 from The Cat in the Hat
Dog Superhero Costumes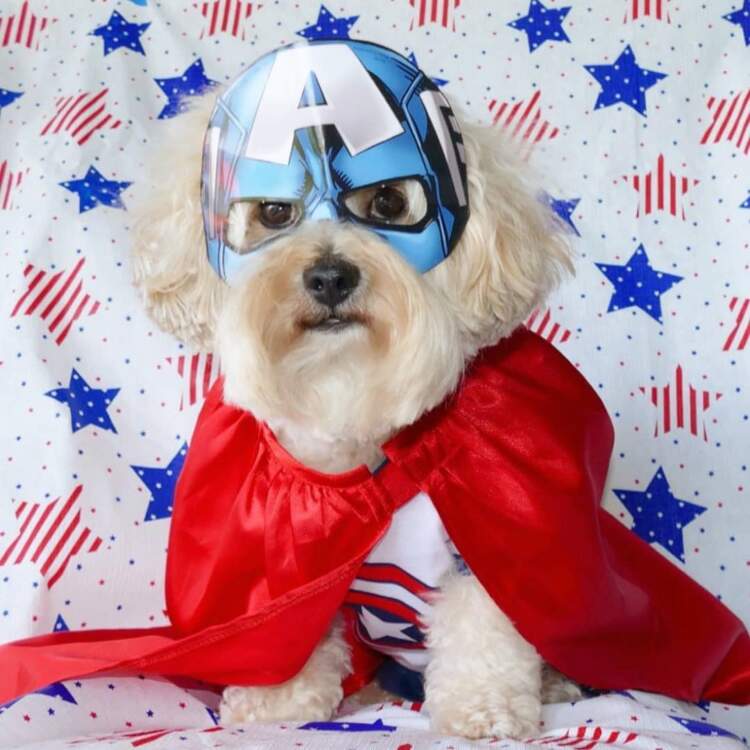 Photo: @scruffy_in_seattle on Instagram
Superhero movies are jam-packed with action and excitement—why not let your furry sidekick in on the fun? As long as your dog is comfortable wearing a Halloween mask, cape, or other garb you might need, these costumes will have your friends and family members marveling at your heroic pup.
Batman
Doctor Strange
Captain America
Thor
Wonder Woman
DIY Dog Costumes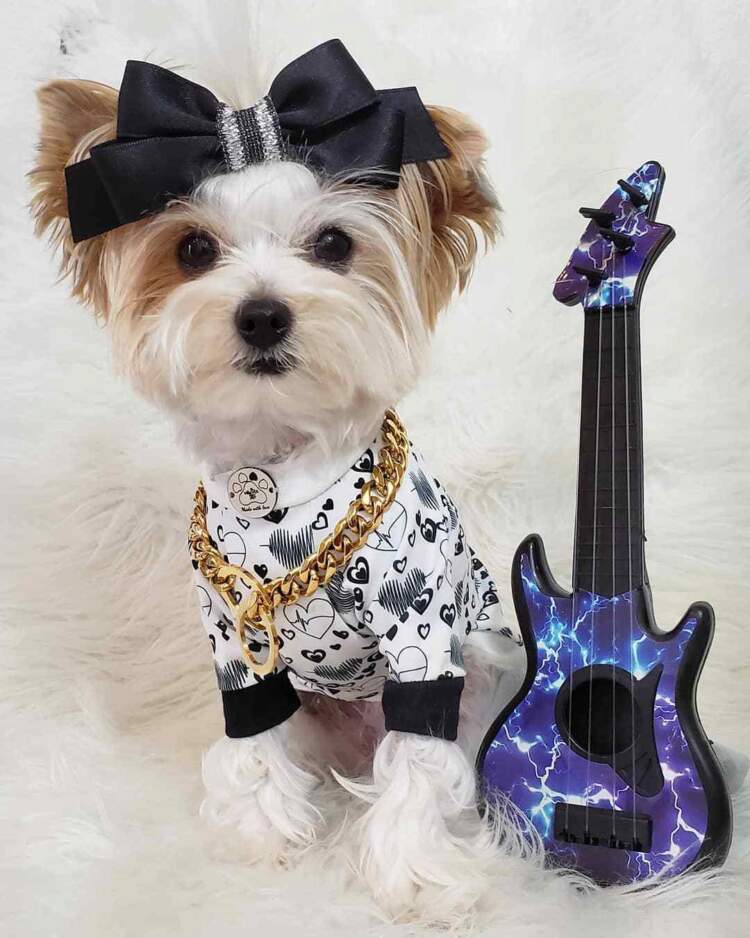 Photo: @sasha_and_yuna on Instagram
When making a do-it-yourself costume, the only limit is your imagination. Check out these DIY dog Halloween costume ideas and let your knack for arts and crafts lead the way. If you need more inspiration, our DIY dog costume quiz will match your dog with the ideal outfit for their personality.
Beanie Baby
Fairy
Rock star
Waldo from the Where's Waldo? book series
Wizard
Animal Costumes for Dogs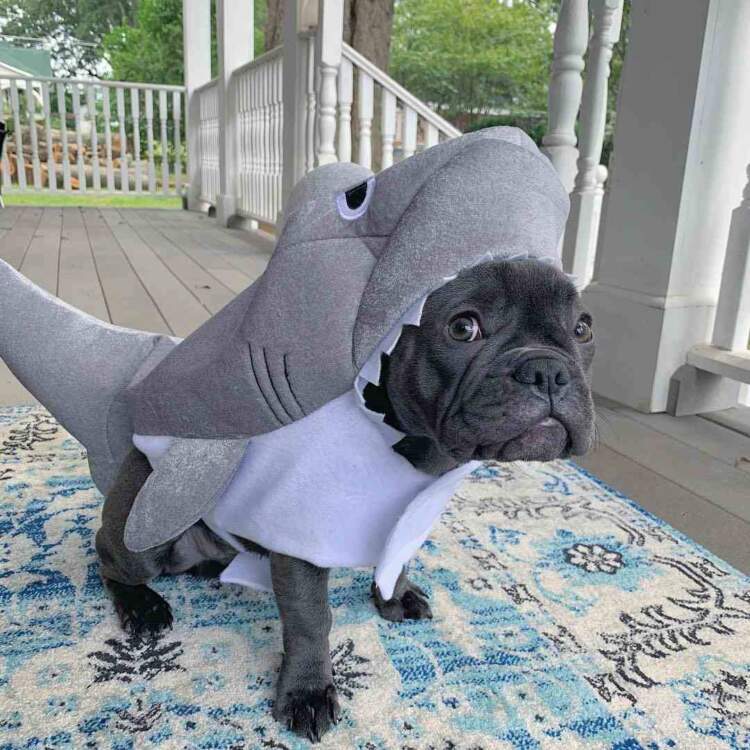 Photo: @bluefrenchieapollo on Instagram
Have you ever thought about what spirit animal best suits your dog? Whether your pup is as noble as a lion or as busy as a bee, these costumes provide a great opportunity to showcase their personality. Plus, they're sure to please all your animal-loving friends.
Bee
Black cat
Butterfly
Dinosaur
Lion
Shark
TV & Movie Costumes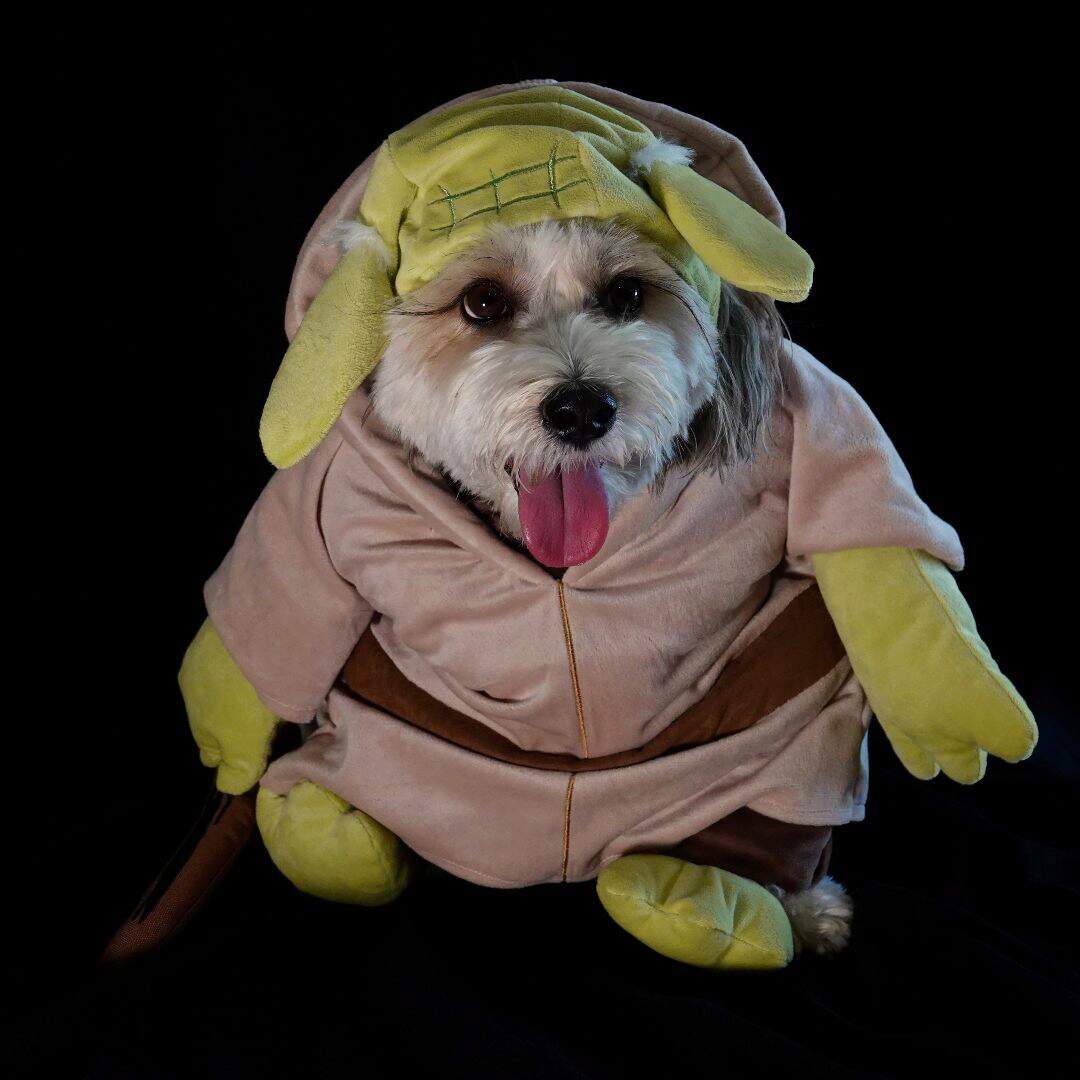 If you're anything like us, watching TV with your dog is one of your favorite activities. Halloween is a great time to bring all those wonderful movies and shows to life! Here are some costume ideas to help your dog celebrate popular television series and Hollywood blockbusters.
a T-Rex from Jurassic World: Dominion
Chase from Paw Patrol: The Movie
Cousin Itt from The Addams Family
Winifred Sanderson from Hocus Pocus
Grogu ("Baby Yoda") from The Mandalorian
Holiday-Inspired Costumes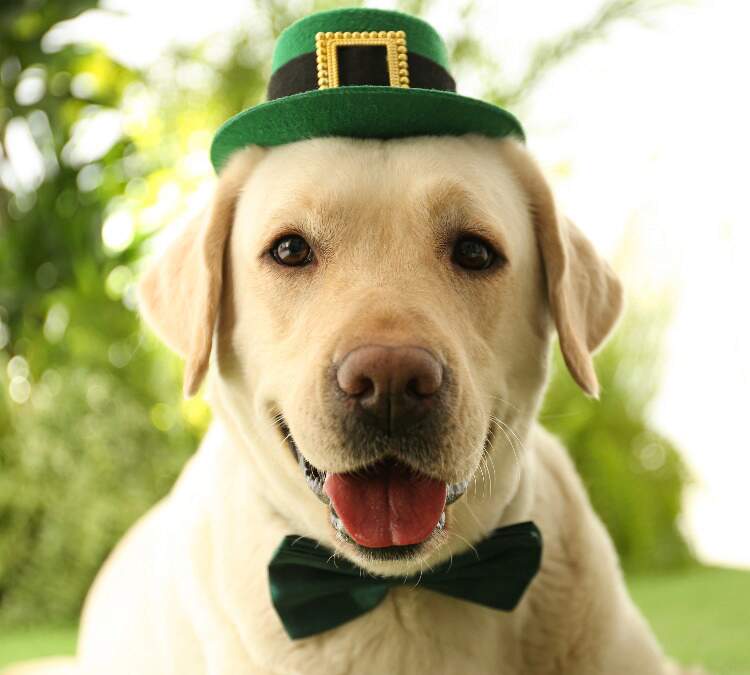 Photo: @itsmeelife on Instagram
Here's an outside-the-box costume idea: dress your dog as a non-Halloween holiday mascot. You and your pup can have a blast commemorating another festive time of year and psyching yourselves up for the holidays to come.
Cupid
Easter Bunny
Leprechaun
Santa Claus
Turkey
Uncle Sam
Dog Sports Costumes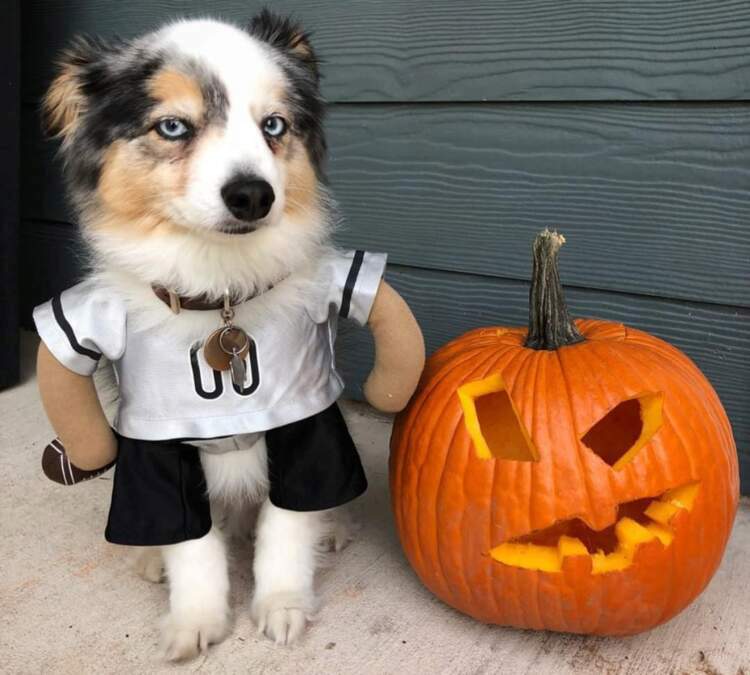 Photo: @olliestoystory on Instagram
Suiting up your furry fanatic in your favorite team's attire is a can't-miss costume strategy, especially if you're a sports lover. Not into team sports? No problem. Just imagine how cute your dog could look in a tutu!
Ballet dancer
Baseball player
Cheerleader
Football player
Referee
Soccer ball
Once you find the best dog Halloween costume, share photos of your pooch on social media. Our dog photography tips will help you take pet pics like a pro so you can flaunt your furry pride and joy to the world. Don't forget to include the hashtag #Nylabone in your photos—we love to see dogs looking their cutest!
Thing 1 and Thing 2 are properties of Dr. Seuss Enterprises, L.P.; Thor, Doctor Strange, and Captain America are properties of Marvel Worldwide Inc.; Jurassic Park is the property of Universal City Studios; Batman and Wonder Woman are properties of DC Comics, Inc.; Beanie Babies are the property of Ty Inc.; Grogu is the property of Lucasfilm Ltd. LLC.; Cousin Itt is the property of MGM Holdings, Inc.; Chase is the property of Spin Master, Ltd.; Hocus Pocus are the property of The Walt Disney Company.