Article
Dog Photography 101: Tips for Taking Perfect Pup Pictures
Have you ever scrolled through your Instagram feed, spotted a super-cute photo of a dog, and wondered how you could capture as perfect of a shot starring your furry friend? Well, you came to the right place.
Whether you have a smartphone or an advanced digital camera, you can snap a quality picture of your pup; it's simply about finding the right techniques! Read these tips to master dog photography in no time.


#1: Keep Calm and Photograph On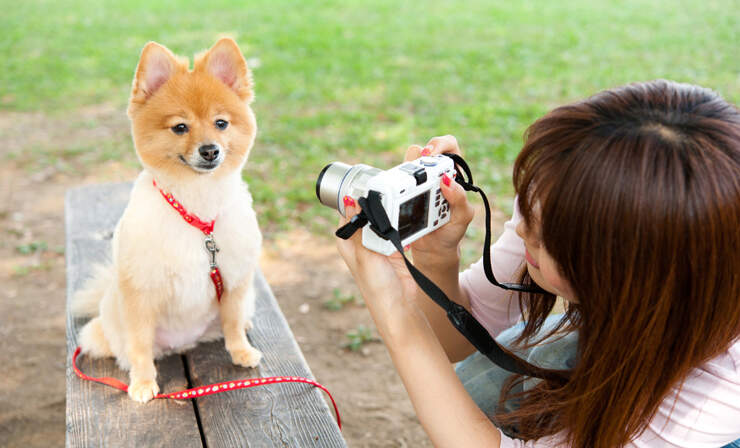 A happy, calm dog is the best kind of dog to capture in a photo. Because furry friends usually pick up on your emotions, you want to ensure you are a relaxed photographer. If you're composed, your pup will also be composed—which will make for natural photos that portray your best friend's true character. Don't forget that taking pictures of your dog should be a fun, bonding experience for the both of you!


#2: Set the Scene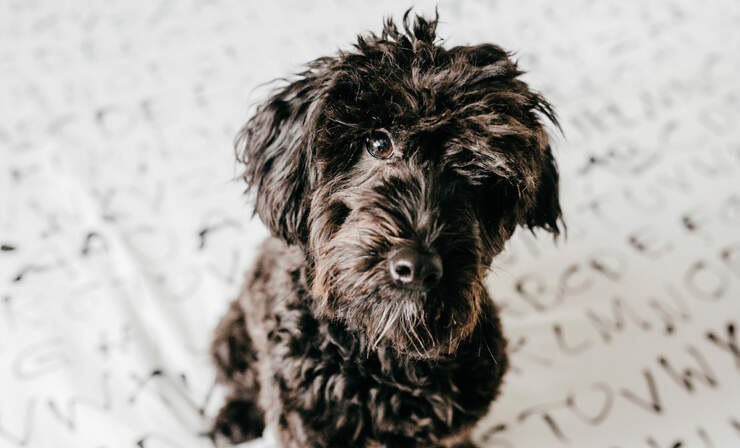 The ideal background will be an integral part of your photos' composition. Once you identified the right spot, keep an eye out for any clutter that could sneak its way into the frame.
Once the area is clear, focus on emphasizing your dog. Monotone backgrounds, such as a sandy beach or green grass, are some dog photo shoot ideas that will make your furry friend stand out. If you want a staged set, use a bed sheet, fabric, or even props such as a chalkboard from a craft store. Avoid dark backgrounds for dogs with darker coats and white backgrounds for those with lighter coats.


#3: Know Your Camera Features
Whether you have a smartphone or professional camera, capturing a beautiful photo is all about using your tools to your advantage. Follow these key features during your next photo shoot.
Exposure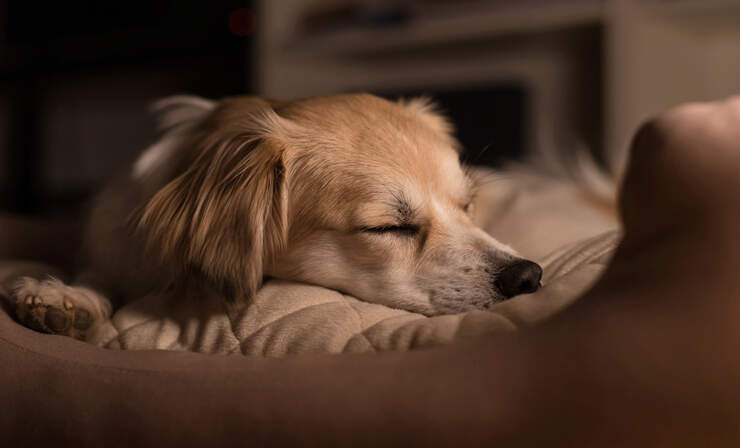 The exposure refers to the brightness of an image, and a smartphone's brightening function is one of its most impactful features. Just touch your dog's face on your phone screen to make it the focal point. This is particularly useful if you're in a poorly lit room and want to take a picture of your furry friend snoozing on a rainy day. Swipe up while the camera app is open on your phone and adjust your brightness to the highest level so you can clearly see what you are capturing.
Zoom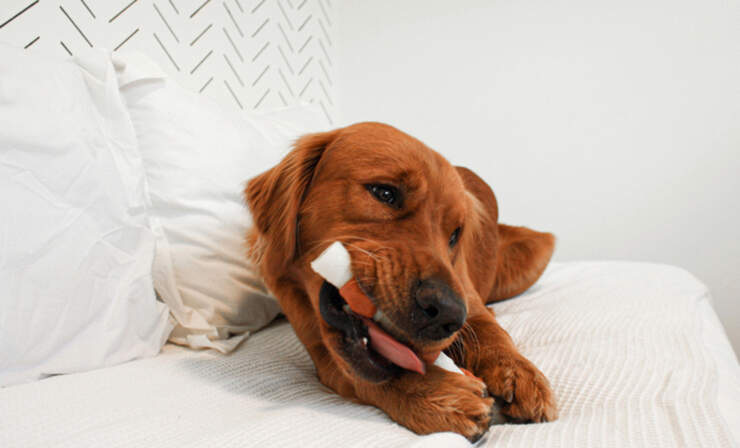 If you want to take a close-up of your dog, you may be tempted to use the zoom feature—but not so fast. Zooming will result in a low-resolution, blurry image. If you want a closer-up photo, crop it during editing so you have more control over the image's composition. A portrait photo of your pooch looking cute and content while enjoying a chew toy would make a great close-up!

Shutter Speed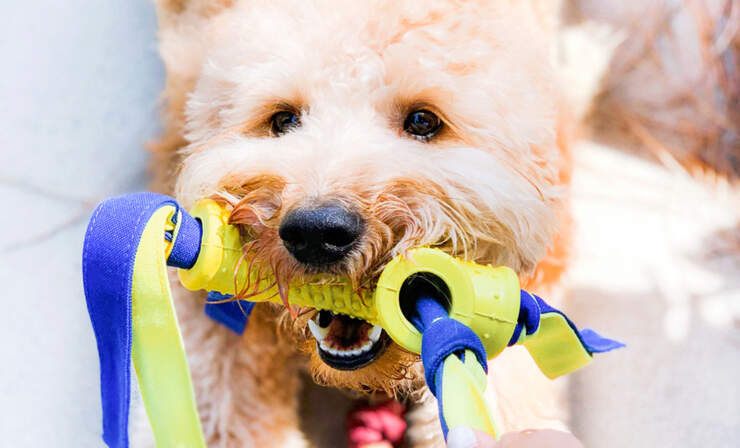 If you have a digital camera with customizable features, setting a faster shutter speed will help capture an on-the-move dog. However, this feature also takes away some light, so ideally you want natural outdoor lighting when using it. Start a high-energy outdoor play session and capture your dog's attention with a toy. Many of our Power Play Toys include fun tassels or squeakers, which will especially come in handy to drum up the excitement!


#4: Find the Light
The lighting dictates the brightness, clarity, color, and mood of your photos. Keep in mind that using the flash often results in a lower-quality image that may even capture those dreaded red eyes that appear when the flash reflects from the retina. Not to mention, the flash can be a distraction to your dog.

Outdoor Dog Photography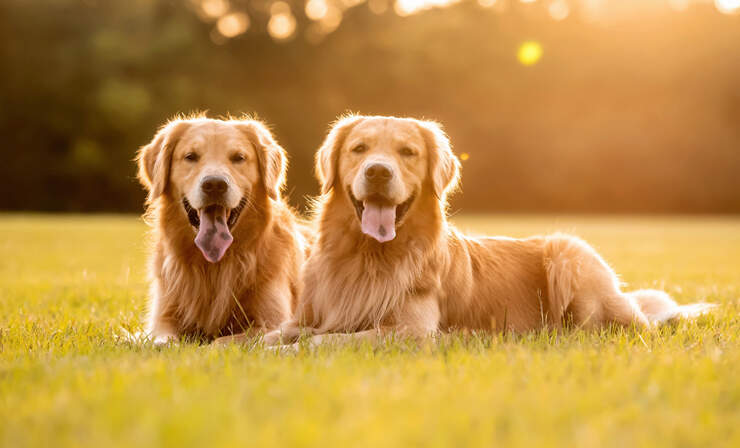 The best times to shoot are in the early morning, evening, or when the sky is overcast. This light will help you avoid harsh shadows and washed out details. "Golden hour"—the time right near the sunrise or sunset—is especially ideal for capturing magnificent lighting with a natural-looking background that will make your pup glow!

Indoor Dog Photography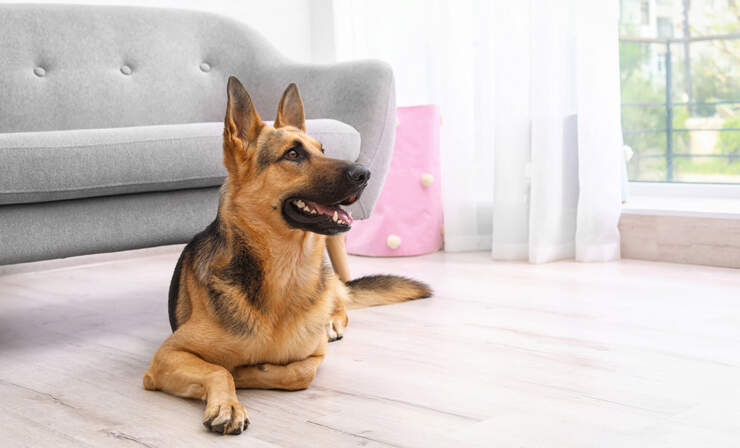 Adjust your blinds or curtains during your photo session until you get the perfect amount of natural light in the room—this will eliminate the inclination to use flash. If natural light isn't available, turn on a lamp so the light is behind you or off to the side. Avoid having the light source directly behind your pup because their image will come out too dark and blurred.


#5: See Eye to Eye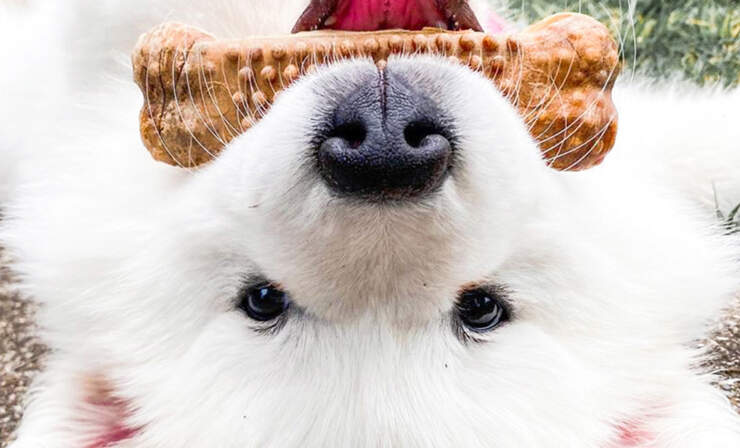 Another helpful dog photo shoot idea is to lower down to your dog's level and shoot from their perspective. This makes for breathtaking portraits that capture your best friend's unique features such as their eyes, nose, and tongue. If you don't want to get too low, you can achieve a similar effect by holding your camera at your knees or hip.
Move slowly when taking photos from different angles; sudden movements may prompt your dog to move too much.


#6: Feel Free to Snap Away
Similar to how humans take dozens of selfies before choosing the perfect one to post, the same concept applies to dog photography—there's no such thing as taking too many pictures. The more you take, the better your chance of getting a marvelous pose or cute candid.
This method also helps you figure out which angles, poses, and features you like best to keep in mind for future photo sessions. A professional camera shows the settings you used for each image, so make note which worked well. Plus, taking a bunch of photos allows you to post multiple versions on Instagram or a gallery on Facebook.


#7: Reward Your Furry Model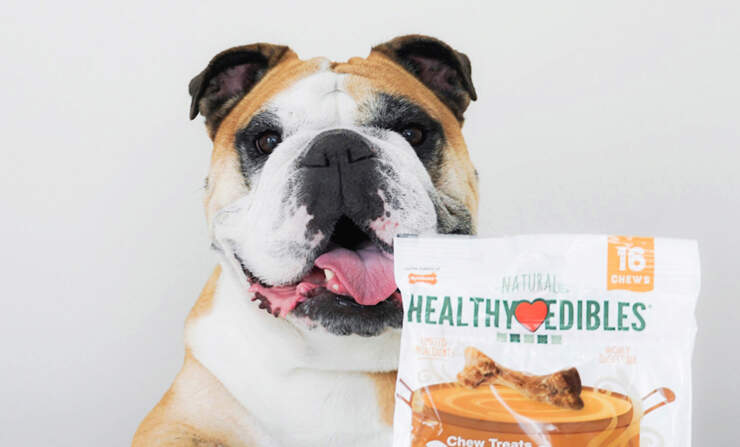 Whether it's with a chew treat or affection, continuously reward your pup for their good behavior as you take photos so they stay engaged. Not only will this help them cooperate, it will also keep a smile on their face—and who doesn't love a picture of a happy pooch? Bonus: if you have another person in charge of rewarding, you can focus on the camera!


#8: Add the Finishing Touch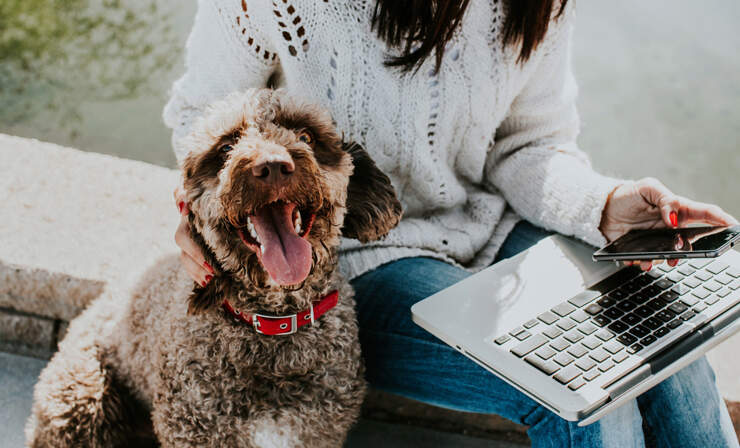 Playing around with photo editing features can add something special to your photos even if you think you captured the perfect lighting and background. If you are savvy with Photoshop and have it downloaded on your computer, you can use it for detailed editing to professionally enhance your photos.
For the everyday pet parent, though, many smartphones allow you to edit pictures right in the photo gallery; just tap "edit" and use the toolbar to adjust the features. You can also download a photo editing app to apply different filters and manually modify the exposure, contrast, sharpness, and other settings.


Display Your Masterpieces
Don't bury your work in your phone or on your computer; showcase those special prints of your furry model! Along with displaying your own artwork of your pup for others to see, check out the many dog decorating ideas to make your home sparkle.
We would also love to see your photography skills. Post a photo of your dog on social media with the hashtags #Nylabone and #NylaboneLove for the chance to be featured on our pages!