Article
8 Dog Decorating Ideas to Make Your Home Sparkle
If loose fur is the only dog-inspired "decoration" in your home, it might be time to revamp your interior design strategy. Incorporating your furry best friend into your décor can be a fun way to show your love and give your living space the wow factor—or rather, the bowwow factor—it needs to stand out.
Whether it's choosing the best furry photo to place above your mantel or painting a new toy chest for your pup's belongings, these creative dog decorating ideas can add an instant pop to your home.
# 1: Make a Picture-Perfect Addition
If you're like most dog moms or dads, you probably have more photos of your dog on your phone than you can count! Why not display your favorites? Pictures of your dog sporting a new bandana or enjoying a beautiful day at the park can add warmth to any room. If you want to create a more refined look and feel, work on your dog photography skills and start snapping some professional-grade photos.
Placement makes a big difference. You can add a small framed photo to an end table, make a statement with some larger prints, or create a gallery wall to showcase your dog.
#2: Create Wagging Wall Art
Speaking of wall art, you can add some abstract pieces for a more imaginative spin. An accent piece such as a custom portrait, silhouette, or mosaic of your dog can make your living space come to life. Visit an artist or online art store for design ideas.
In addition to honoring your pooch, dog wall art serves as a fun conversation piece when entertaining guests. Make space for your dog-inspired composition in the living room, family room, or anywhere else visitors may gather.
#3: Start a DIY Dog Décor Project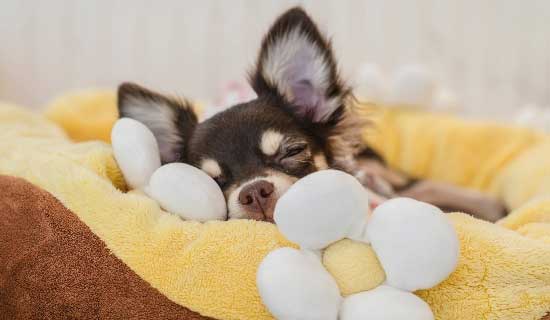 What's more fun than a homemade craft? Try one of these classic do-it-yourself dog decorating ideas to give your interior decorating a personal touch (or make a special gift for a fellow dog lover!).
Dog cushion: Every pup loves a comfortable place to rest! You can make your dog their very own cushion by sewing fabric around an old bed pillow and placing it in their favorite snoozing spot. If there's an embroider in your family, stitch your dog's name on the cushion for extra pizzazz.
All-in-one hanger: This is a great way to organize your dog's walking supplies in one convenient location. Get a smooth wooden board from your local craft store and nail in some hooks to hold your pet's leash and collar. You can also glue on a treat jar and waste bag dispenser and add any paint or decorations you like. When you're finished, hang your new organizer near the front door.
Toy chest: If you've ever stepped on a chew toy, you know just how important it is to keep your dog's belongings organized. Buy a wooden crate big enough to fit your dog's toys and paint it in a color that matches your home's décor. Don't forget to fill your best friend's toy chest with some new dog chew toys!
#4: Spruce Up Your Office Space
The less exciting parts of your home deserve love, too! A little reminder of your dog in the midst of your bills and paperwork can add some joy to an otherwise drab area. For a furry pick-me-up to your home office space, add a pup-inspired desk ornament such as a dog figurine, paw print paperweight, or desktop clock with a picture of your pooch. Remember to keep any fragile or sharp decorations out of your dog's reach.
#5: Touch Up Your Homey Touches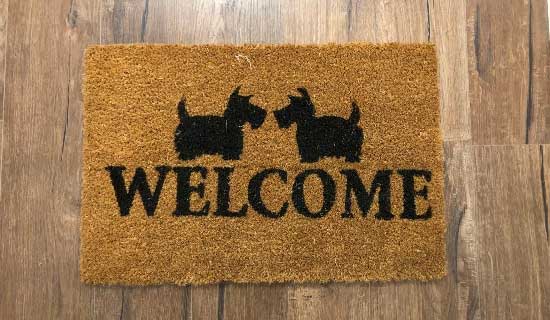 Household items such as towels and mats become much cuter when you personalize them with your dog's face! Explore your preferred online art store for customizable home goods like the classics below.
Throw blanket and throw pillow: The only thing more comfortable than snuggling with your dog is snuggling together with some cozy blankets and pillows. A custom-made throw blanket featuring a picture of your pup is a comfy and fashionable way to show off your best friend. You can also have a matching pillow customized with your dog's picture or name and place it on your couch.
Dish towel: Purchasing a dish towel customized with your dog's smile is a subtle but adorable way to incorporate some dog-inspired kitchen décor. If you plan on using the dish towel for more than just display, try using it specifically for your dog's water and food bowls.
Welcome mat: Even before your pup has a chance to greet anybody at the door, a welcome mat with their face on it lets guests know just how special your fur friend is to your family. Add a custom welcome message for even more flair.
#6: Give Your Walls a Fur-Friendly Makeover
Dog wallpaper makes a strong design statement. Paw print and dog face wallpapers ranging from rustic and Victorian to modern and retro are available at a variety of online outlets, so you'll have lots of exciting options to choose from. The kids' room can be a great place for cartoonish dog wallpaper, while more subdued designs can work anywhere you like.
#7: Spell Out Your Love with Wooden Dog Signs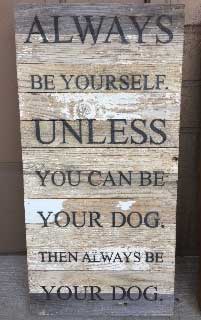 Just as your pup welcomes you home every day, you can welcome everybody else home with inviting wooden signs inspired by your dog. These homey decorations often include inspiring quotes or funny phrases, and many home furnishing stores sell these signs with dog-themed messages.
Wooden dog signs add a rustic twist just about anywhere, with kitchens, living rooms, dining rooms, and bathrooms among the most popular locations. If you find a sign that speaks to your dog's personality, put it by their bed space so the message hits home.
#8: Reinvigorate Your Dog's Belongings
Your dog's belongings can impact your home's appearance. Swap old food and water bowls for shiny new ones and replace outdated dog gates with more attractive options. If your dog's living space is due for an upgrade, think about changing out their old bed for a chic dog teepee!
This is also a great opportunity to clean up the clutter and reorganize your dog's possessions. Place items your pup rarely uses in storage containers and get rid of old pet toys. On a deeper level, Feng Shui for dogs can even help you and your fur friend maintain positive and healthy home energy.
Just as décor makes a statement, incorporating your dog into these decorations shows the world how much you care about your four-legged family member. No matter what kind of dog décor you add, display it proudly for all to see!