Article
Gifts for Dog Lovers: 5 Heartfelt Ideas
No dog is disappointed when they receive exciting new toys and deliciously satisfying treats, but shopping for the pet parents on your list is not always as straightforward. Whether you want to make a pup-inspired DIY craft, get a new pet parent off to the right start with some puppy essentials, or find a meaningful last-minute gift, don't miss out on these excellent gifts for dog lovers!
For the Décor Connoisseur: Customized Knickknacks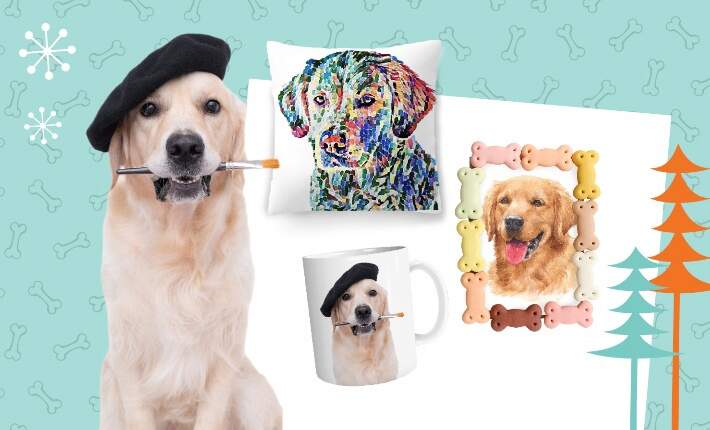 Everyday items personalized with a dog's face can make a nice complement to any pet parent's kitchen, living room, office, or even their dog's living space. All you have to do is find a cute high-resolution photo of their pup and head to an online marketplace that creates customizable gifts. A variety of websites can make one-of-a-kind blankets, pillows, mugs, mousepads, and tons of other household items featuring the image of your choice. If your giftee shares pictures of their dog on social media, that can be a terrific place to find the perfect décor-worthy shot.
If you want to go all out, get a custom-made dog portrait. You can find artists who will paint or digitally create a specialized portrait, and you can even ask them to incorporate unique features such as a backdrop of the dog's favorite location. Once you find an option that fits your budget, surprise the pet parent in your life with their mutt masterpiece!
For the First-Time Pet Parent: Gift Basket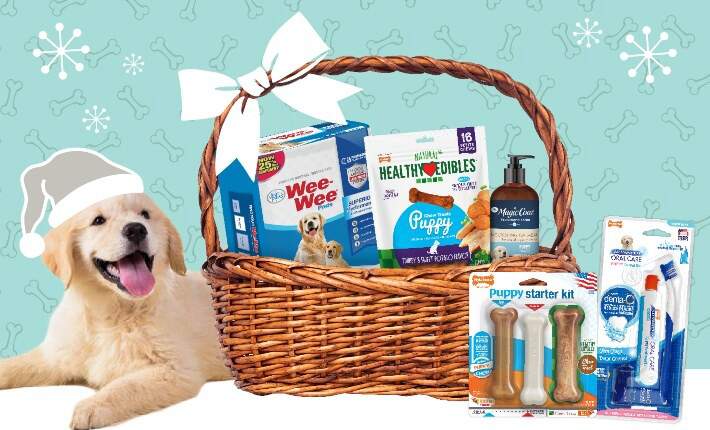 Do you remember getting your first dog…and all of those trips to the pet store for things like chew toys, treats, toothpaste, poop bags, a leash, and so many other necessities? A well-thought-out gift basket is a great opportunity to supply a new pet parent with must-have items and prepare them for "uh-oh" moments such as potty accidents and muddy paw tracking. Check out our ultimate new puppy checklist for more essentials you can add.
Even if you're shopping for an experienced pet parent, a gift basket can be a super-fun (and super-thoughtful) way to give. Opt for a "spaw day" gift basket filled with dog grooming supplies such as shampoos, brushes, combs, and nail clippers to turn their pup's next bath into a luxurious spa-like experience. And if you're feeling especially generous, give the pet parent a spa gift card so they can share in the pampering!
As with all of the best gifts for dog lovers, presentation is key. Spread some tissue paper around the base of the basket and place the items inside, keeping the tallest gifts in the center. When you're done, wrap it with cellophane or shrink wrap and add a bow for some extra pizzazz.
For the All-Around Animal Lover: Charitable Donation
The gift of giving never fails! If you know a pet parent who adopted their dog from a shelter, volunteers for a non-profit organization, or just loves to lend a helping hand, making a charitable donation in their name will be a genuinely heartfelt gift. For idea-starters, check out some of the extraordinary organizations our Nylabone Cares program supports:
American Humane – This organization's core mission is to be the "first to serve" wherever animals are in need of rescue, shelter, protection, or security, and to nurture the bond between animals and humans.
Leader Dogs for the Blind – The dedicated dogs in this program are trained to assist people who are deaf, blind, or visually impaired—reintroducing these individuals to a life of independence, confidence, and companionship.
Guide Dog Foundation – Dedicated to the well-being of dogs and people alike, the Guide Dog Foundation trains guide & service dogs and partners them with individuals who are blind, have low vision, or have other special needs.


For the Sentimental Pet Parent: Handmade Craft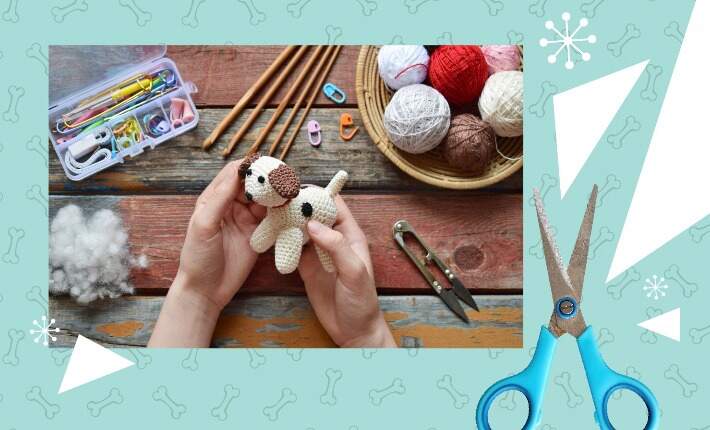 It may be a cliché, but it is true: it's the thought that counts! If you want to give a one-of-a-kind gift for dog lovers, break out the art supplies and make them a present from scratch. Regardless of your artistic abilities, there are plenty of dog-inspired home decorations you can create with just a few materials and a little elbow grease. Some gift-worthy dog crafts include:
• Paw print ornaments
• Custom treat jar
• Dog-shaped doorstopper
• Leash hanger
• Toy chest
Feeling really crafty? Use yarn or string to recreate your fellow pet parent's dog! Once you decide on a project, shop around the craft store for your materials and some embellishments (such as paint, glitter, beads, or buttons) to bring your creative vision to life. Feel free to recruit friends or family for help and inspiration!


For the Reader: Dog-Themed Book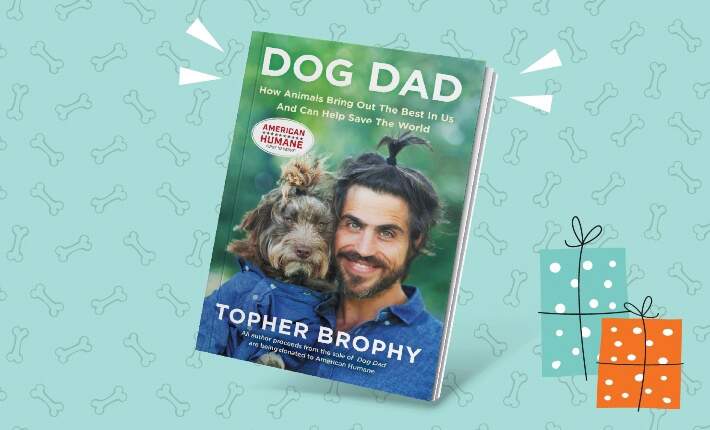 What's better than cuddling on the couch with your furry friend? Cuddling on the couch with your furry friend and a good book! There's an abundance of novels about dogs, as well as real-life stories about people and their amazing pups.
One of our picks is Dog Dad: How Animals Bring Out The Best In Us And Can Help Save The World by social media influencer Topher Brophy. With all book proceeds going to American Humane, this true story explains how becoming a pet parent to an Aussiedoodle named Rosenberg changed Topher's life—and how together they are dedicated to the higher purpose of helping others. Talk about a heart-warming message!
Dog care guides are also among the best gifts for dog lovers who love to read. Consider grabbing a book about their dog's breed for expert advice on grooming, feeding, playtime, and beyond. No matter what kind of guide or story you choose, include a doggy bookmark!


That's a Wrap
When choosing gifts for dog lovers, let their needs and personalities guide your search. A dog portrait might be the ideal gift for a new homeowner seeking a cute mantelpiece, while a hand-painted toy chest could be just what your most affectionate friend is looking for. Happy gifting!