Article
Creative Dog Room Ideas for the Perfect Pup Space
Have you ever sat on the couch with your dog and noticed them quietly sneaking away to another room? Don't worry, your dog isn't tired of you! They just need their own personal space, too.
Creating a "dog room" is the perfect way to provide your dog an indoor sanctuary where they can roam freely and enjoy some privacy. This can range from simply a place to keep your dog's bed to a custom-made indoor dog grooming station, and anything in between. Follow along to gather some inspiration for your own dog room ideas!
Benefits of creating your own dog room:
Boundaries: Boundaries are essential for both you and your dog. While your dog gets their own space away from others, you get peace of mind knowing your furry friend can't access any valuables or unsafe areas.
Positive association: A positive association with alone time is one of the first training exercises when learning to leave your dog home alone. Establishing this is important because it teaches your dog there's a safe space they can go for instant peace, especially in times they may feel anxious.
Comfort: One of the benefits of building a custom room is that it is tailored to your best buddy. You can make this a special spot for them to enjoy a comfortable nap or unwind with a chew toy without any interruption.
Start Creating Your Own Dog Room
As your dog room ideas start flowing, first consider the location of the room itself. Here are our picks for the best layouts and what to consider before getting started.
1. Storage Closet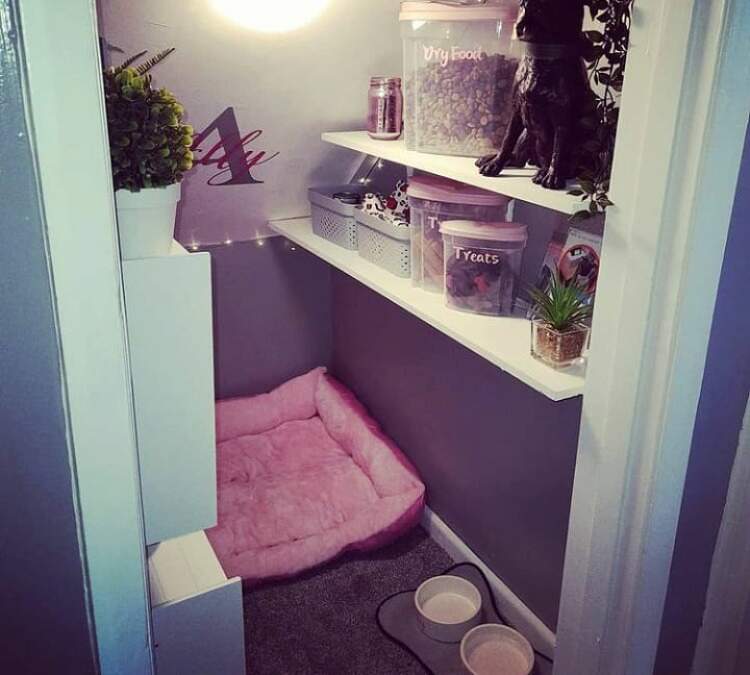 Photo: @nicola_jordan_89 on Instagram
Whether you have a spare closet or want to better utilize the space you already have, a closet can be a great established space for your dog room. While construction is not necessary, we do recommend either taking the door off the hinges or using a trustworthy doorstop to assure your pup can go in and out as needed.
2. Under the Staircase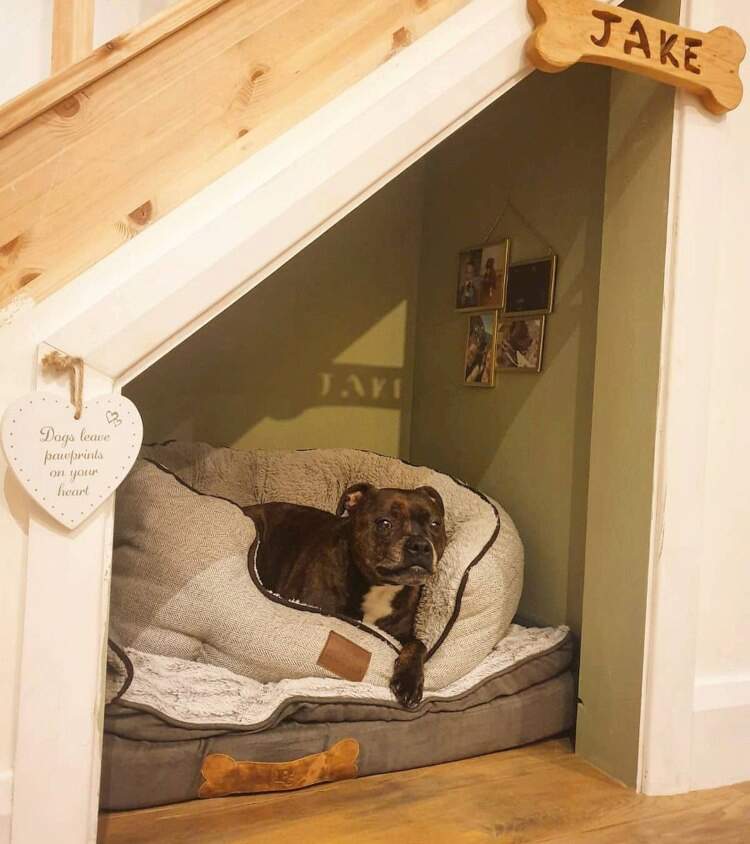 Photo: @jakefiles on Instagram
The stairwell is a hidden secret for expanding your space. However, unlike the closet, the stairwell will require a bit of handy work. Building your dog room under the stairs is not only an optimal space-saving option, but an intimate nook that also offers a whole new level of coziness. Just add your dog's favorite comfy bed and you've made the ultimate pup cave!
3. Entire Room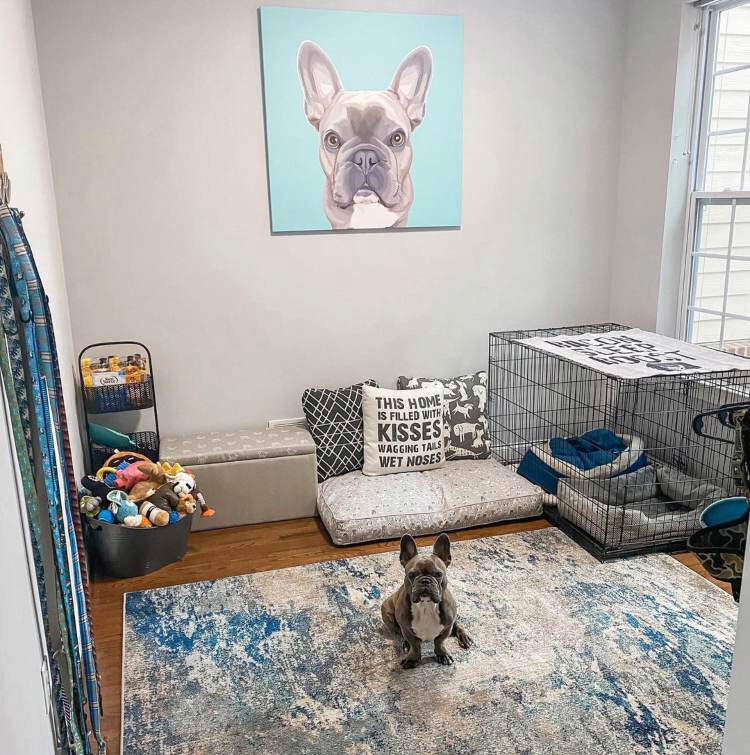 Photo: @frenchbulldog.turbo on Instagram
Whether you are welcoming home a new puppy or upgrading your dog's current space, there are lots of benefits to a full-size dog room. A dedicated "puppy nursery" creates an inviting space for your new furry friend from the start, which can help them acclimate during this transition. If you are touching up an older dog's room, this is the ultimate way to spoil them!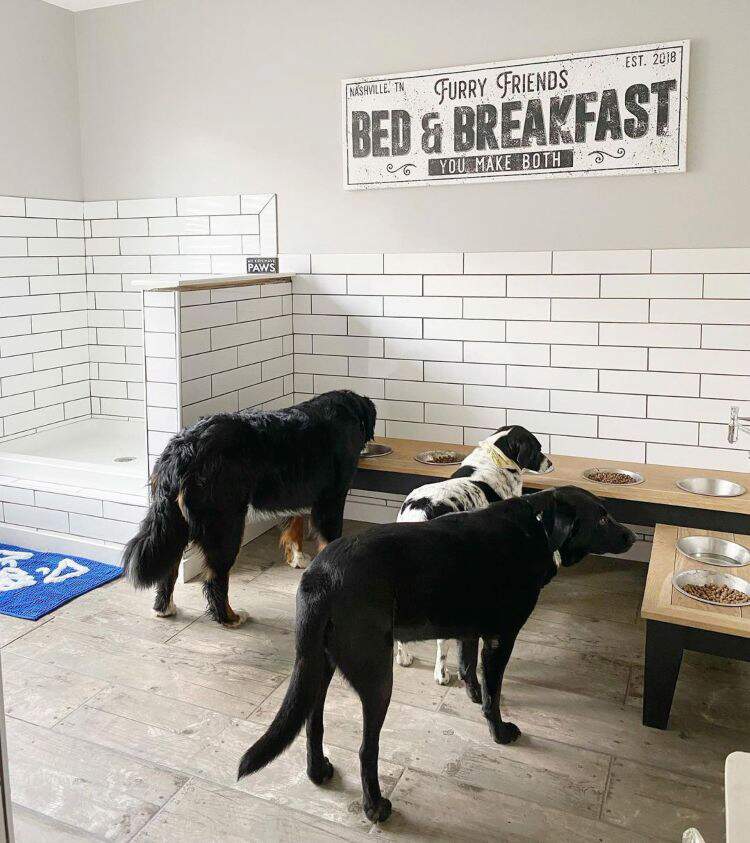 Photo: @country_dog_homes on Instagram
A full-size dog room not only provides more space for your furry friend to move, but can also house even more functions such as pet-supply storage, a place to hang leashes, or even a dog cleaning or food station. Throw in a few of your fur pal's favorite play toys and you've got everything you need in one convenient location!
Designing Your Space
The great thing about coming up with your own dog room ideas is that you have total creative vision. Here are our favorite decorating approaches to consider while you start to plan out your pup's new place.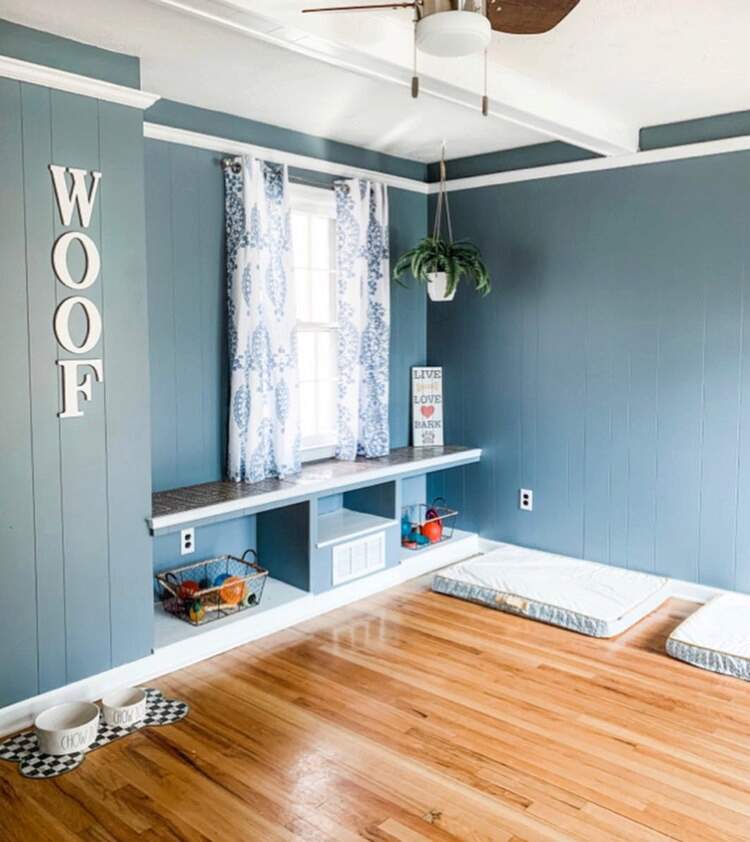 Photo: @simplyshelbystyle on Instagram
Discreet design: A discreet design is a seamless way to blend two spaces together. There are plenty of dog accessories that blend function with style, such as a crate that doubles as a table (just don't place anything fragile on top!). Multi-functional furniture like this will also provide extra space in your home.
Elaborate design: A more elaborate design can transform the dog room into its own standout piece of art in your home. If you want to make it extra fun, add a sign with a relatable dog quote or even some personalized dog-themed pictures to the walls.
While setting up the furniture, you should consider what colors to use, shapes to focus on, and even the placement of your dog's belongings. In fact, the benefits of Feng Shui for you and your dog can help establish the safe and balanced energy you are trying to achieve. Avoid placing any heavy objects above or behind your dog's sleeping area and try to situate their bed away from doors that could swing open and disturb them. A proper safety check will ensure you are building a dog-friendly home!
All That's Left is the Housewarming Pawty!
As for the final touches, remember dogs can track dirt (which is perfectly normal), so a washable rug might be a smart floor option for cleaning. You can also designate a proper potty spot for your dog with an indoor dog potty.
Overall, it is important to slowly establish a positive connection between your dog and their new space. You can start by offering a treat in the room or by placing a new toy by the bed. The goal is to create a place that serves as the foundation as you build a fun, healthy, and cozy lifestyle that you and your dog can both enjoy!