Article
24 Dog Apps Every Pet Parent Needs in 2022
This article may contain links to other sites on the Internet that are owned and operated by third parties. Central Garden & Pet does not warrant the availability of use of these sites, and you acknowledge that Central Garden & Pet is not responsible for the operation of or content located on or through any such site.
Checking the weather, listening to your favorite podcast, seeing a photo of your aunt's breakfast (again)…
There's an app for just about everything in your life—and your furry friend is certainly no exception. From scheduling your pup's next vet visit to ensuring the vegetable that fell from the grill is safe to give to your dog, you're never more than a few taps away from all the information you need. We've rounded up 2022's best dog apps just waiting to be discovered!
Although all of these apps are free to download, some require subscriptions or other in-app purchases to access all features.
Best Dog Travel and Recreation Apps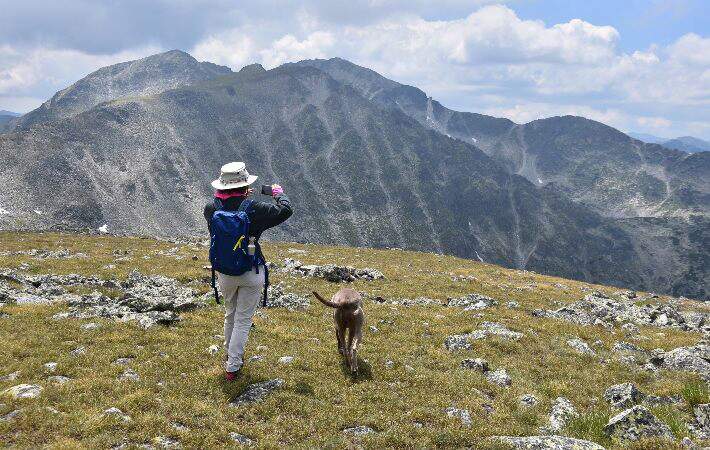 Whether you're traveling with your dog or looking for some fun activities close to home, these apps will help you make the most of your free time together.

BringFido
If you want to take your pup on an adventure but are not sure where to go, BringFido is for you. This robust app shows pet-friendly hotels, events, attractions, and restaurants wherever you and your dog are located. Hotel rate comparisons and reviews are also available.

BarkHappy
You can connect with your local community of dog lovers through the BarkHappy app. Use this location-based app to find dog-friendly places near you, create a profile for your dog and connect with fellow pet parents, and even set up private or public dog play dates.

AllTrails
Do you and your pup like to venture off the beaten path? AllTrails offers more than 100,000 trail maps worldwide with photos and reviews from fellow explorers. Although not intended exclusively for pet parents, AllTrails lists dog-friendly trails to help you and your furry friend choose the perfect bucket list destination.
Sniffspot
Living in a city or densely populated town can make it difficult to find space for your dog to exercise freely. Sniffspot was created to connect pet parents with safe, local play spaces! The app allows you to rent private spots for your dog to play, whether it's a field, a private dog park, or even just a backyard! These locations are great for pups who don't love crowded parks or pet parents who don't have access to large spaces near their home.

In addition to these awesome travel and recreation apps, check out our Dog Park Finder to find the best parks near you!


Best Dog Training Apps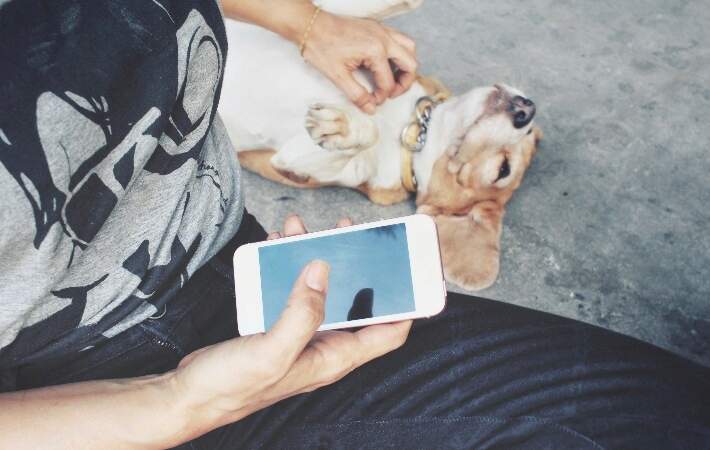 Teaching your pooch how to sit, stand, or roll over and need some extra guidance? These dog training apps will help you master basic obedience commands, advanced tricks, and everything in between.

Puppr
Featuring more than 70 step-by-step dog training lessons, Puppr makes teaching commands easier than ever. Collect badges as your dog learns new tricks, plus participate in photo challenges to show off your furry friend to the Puppr community.

EveryDoggy
The EveryDoggy app was created by top canine experts and offers guided videos for training puppies and adult dogs. EveryDoggy also provides problem-solving guides to help pet parents discourage inappropriate behaviors such as excessive barking and leash pulling.

iTrainer Dog Whistle & Clicker
You can keep all of your training tools in one place with iTrainer Dog Whistle & Clicker. This dog app includes a dog whistle with customizable frequency plus clicker sounds, squeaker toy noises, and other effects to help you train your pup. You can also record your own sounds to capture your dog's attention.

GoodPup
As the app's name suggests, GoodPup will help you teach your dog positive habits. This app lets users conduct weekly video calls with certified trainers who provide specialized training advice for each dog. Text check-ins with these trainers are also available throughout the program.

Harper
The Harper library contains video training courses for teaching or improving your dog's skills, bonding with your pup, and solving behavioral problems. The training journal feature lets you track your dog's progress and make notes as you work through each course.


Best Dog Sitting Apps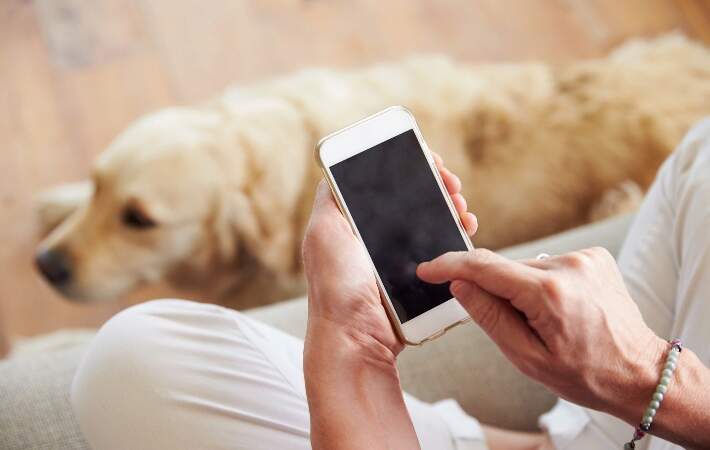 When you need someone to watch your furry friend or take them for a walk, these dog sitting apps will connect you with professionals in your area.

Barkly Pets
Providing background-checked and trained local dog walkers, Barkly Pets makes it easy to find a professional who fits your schedule. The app works to provide each user the same dog walker every day, allowing your furry friend to get familiar with their walker. Easy scheduling and 24/7 customer service add to the convenience.

TrustedHousesitters
You can quickly find a reliable pet sitter through the TrustedHousesitters app. Available in more than 130 countries, TrustedHousesitters connects pet parents with local, verified sitters. This dog app is great for scheduling both short- and long-term stays.

You can also check out Wag! and Rover, which offer easy access to reliable dog sitting and dog walking services. Sort through local professionals in your area and find the perfect option for your pooch.


Best Dog Health and Safety Apps
Your dog's wellbeing is a top priority. From food safety to dog first aid, these apps offer essential information for keeping your furry friend out of harm's way. While these apps are helpful supplemental resources, they should not replace professional veterinary care.

Pet First Aid
The Pet First Aid app contains a wealth of health and safety tips. Offered through the American Red Cross, this app includes veterinary advice for everyday emergencies through videos, quizzes, and step-by-step instruction guides.

FEMA
Ideal for pet parents and non-pet-parents alike, the Federal Emergency Management Agency (FEMA) app provides emergency alerts and information to keep you and your family prepared. Review emergency preparedness tips, read disaster resources, and locate emergency shelters in your area with this invaluable app.

PetDesk
The PetDesk app provides access to top-flight local pet care professionals. View nearby veterinarians, request appointments, and set reminders quickly and easily.

PetCoach
Have a burning question about your dog's health? PetCoach provides access to live chats with veterinarians and hundreds of vet-authored articles. From your furry friend's nutritional needs to potty training, this app covers a wide range of topics.

iKibble
This app takes the guesswork out of which foods your dog can and cannot eat. With information on hundreds of meats, fruits, dairy products, and beyond, iKibble is your go-to source for identifying dog-friendly foods.


Best Dog Activity Tracking Apps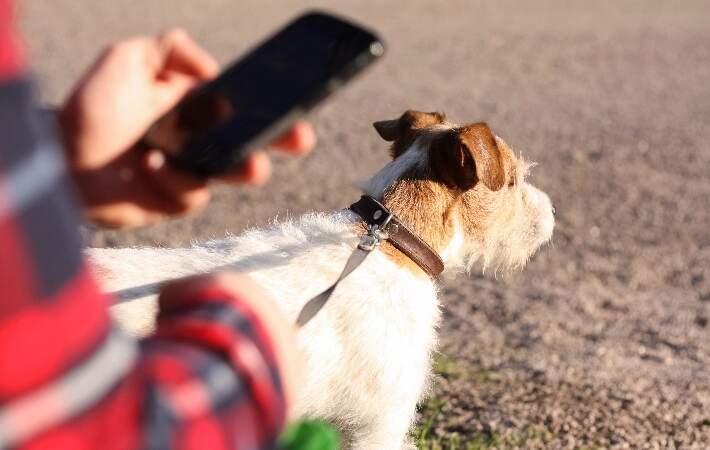 Staying on top of your pup's exercise levels, diet, and vaccinations has never been easier. These are the best dog apps for tracking a variety of activities.

Tractive Dog Walk
The Tractive Dog Walk app uses your device's GPS to track your daily walk route and find out how much exercise your dog receives. This app also archives your past walks, allowing you to see how far you and your furry friend have traveled. To top it all off, you can take snapshots of your dog during walks and share them with friends!

Pet Growth Notes
From logging special moments to noting exactly how big your puppy has grown, Pet Growth Notes serves as an all-in-one dog record-keeping device. Enter details such as your dog's weight, height, vaccinations, and medication reminders to keep this essential information in one convenient spot. This will come in handy during your furry friend's next veterinarian visit!

Dog Buddy
Speaking of records and milestones, Dog Buddy lets you track your dog's development and enter your veterinarian's information. This app supports multiple dogs, so you can store everything you need to know about each furry family member.

Pawprint
Your dog's veterinary information should be kept in a safe place, and Pawprint helps you do exactly that! Use this app to request and store official medical records and set alerts for items such as veterinarian visits and medication reminders.


Best Just-for-Fun Dog Apps
Need a little pup-inspired entertainment to brighten your day? You and your furry friend will have a blast with these fun dog apps!

Human-to-Dog Translator
If you have ever wondered what your dog is trying to tell you, Human-to-Dog Translator is for you. This app claims it can identify your dog's feelings through its sound translator feature. Users can also speak into the microphone, and the app will "translate" the words into woofs and barks!

My Talking Pet
The My Talking Pet app is sure to create lots of laughs! Simply upload a picture of your furry friend, say something goofy into the microphone, and let the good times roll as the app moves your pet's lips to your words. You can also choose from the app's prerecorded clips and even add a hat, glasses, or other funny props to your photo.

Weather Puppy Forecast + Radar
The Weather Puppy Forecast + Radar app brings joy when you check the weather—rain or shine! This app shows an adorable puppy next to your local forecast who will change based on the weather and time. Plus, you can use photos of your own dog for a personalized experience.

Dog Scanner
Whether you need help identifying your mutt's breed mix or want to help a friend pinpoint their dog's breed, Dog Scanner is up to the task. Just take a photo of the furry friend in question and let the app identify the breed within seconds. Dog Scanner also provides detailed summaries of its supported breeds, offering information on size, history, physical description, and more.


Which Dog Apps Will You Download?
This year's best dog apps help make pet parenting life a little bit easier—and more fun! Feel free to group all your dog apps together in one folder for even quicker access, and don't forget to share your favorites with fellow pet parents. Our recommendations are sure to be an app-solute hit for you and your dog!