Article
Introducing Gourmet Style Dog Chew Toys
Inspired by that distinct "this is the life" feeling of satisfaction, our Gourmet Style chew toys are made to wow flavor-obsessed dogs who crave a new type of chewing experience.
It's All in the Experience
The best gourmet indulgences have a way of exciting our senses like no other. They intrigue our eyes, awaken our taste buds, and satisfy our cravings.
That's why our latest formula is uniquely crafted with enticing gourmet flavor bits roasted throughout—leaving even the most particular pups with a sense of chewing gratification!
Expertly Crafted
Over the past 60 years, we've mastered the flavors, shapes, and textures dogs love, and we constantly seek to enhance our furry friends' chewing pleasure in unexpected ways. Applying decades of expertise, we crafted something new for your dog's chew toy collection: an innovative formula that looks different, chews different, and tastes downright indulgent.
More Flavor You Can See
A quick glance is all it takes to notice something special: Gourmet Style chew toys are full of more flavor you can see. Proudly made in the USA, each chew toy features bold bits of chicken, bacon, or peanut butter flavor roasted throughout for a sensational chew time that lasts and lasts and lasts…
Puppies Can Enjoy the Indulgence, Too!
Our Puppy Gourmet Style chew toys are specially created for the next generation of flavor connoisseurs. This scrumptious variety of chew toys contains those same bold flavor bits while teaching healthy chewing habits that will last a lifetime. Made with teethers and chewers in mind, these chew toys keep new best friends happy, occupied, and SATISFIED!
Our Most Popular Shapes
No matter your dog's size or flavor preferences, gourmet chewing awaits them!
With an arched ergonomic shape, Nylabone's engaging wishbone chew toy is easy for dogs to hold and chew.
Features a wide opening for comfortable holding on all three chewing ends
Choose from three delicious flavors: savory

chicken

, irresistible

bacon

, and indulgent

peanut butter

Available in three varieties
Small/Regular: for dogs up to 25 pounds
Large/Giant: for dogs up to 50 pounds
This universally loved shape looks like the real thing—but is safer and cleaner than sticks found in the outdoors!
Offers dogs the realistic appearance and texture of a real stick
Choose from two delicious flavors: savory

chicken

and indulgent

peanut butter

Available in three varieties

Medium/Wolf: for dogs up to 35 pounds
X-Large/Souper: for dogs 50 pounds and over
Puppy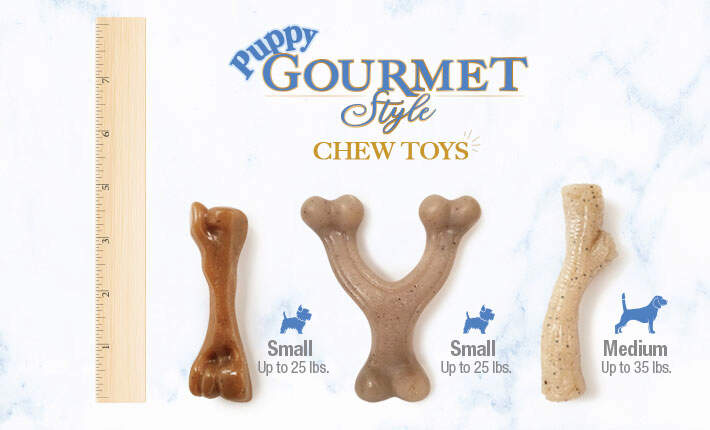 5-Star Shapes Just for Puppies
Puppies deserve a gourmet chewing experience all their own! Our Puppy Gourmet Style chew toys come in three classic shapes:
Wishbone
Featuring indulgent peanut butter flavor throughout, our ergonomic wishbone chew toy is easy for puppies to hold and chew from any angle. Plus, it includes three chewing ends to keep the fun going!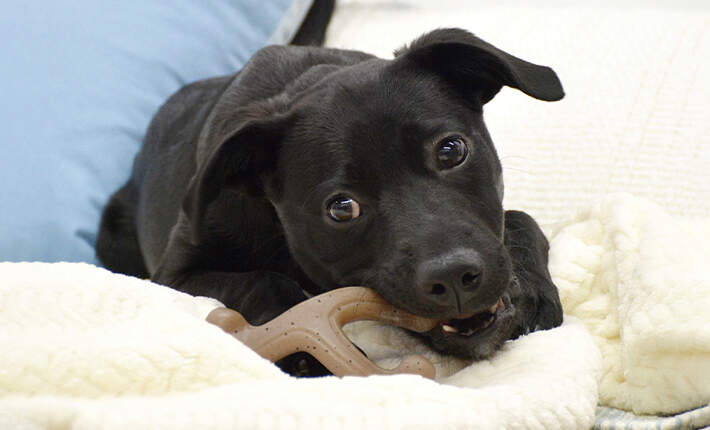 Femur
This enticing chew toy features an authentic bone shape and is safer & cleaner than real animal parts. Irresistible bacon flavor throughout adds to the experience, keeping puppies obsessed with their new favorite chew toy.
Stick
Speaking of safer and cleaner alternatives, this chew toy looks just like a real stick—without any splintering or mess! It also features savory chicken flavor throughout, making it way better than anything your puppy finds on the ground.
Replacing Your Gourmet Style Chew Toy
Depending on your dog's chewing style and how much time they've been spending with their Gourmet Style chew toy, when you should replace it can vary.
Use the below stages to help determine when to move on to a new shape or flavor!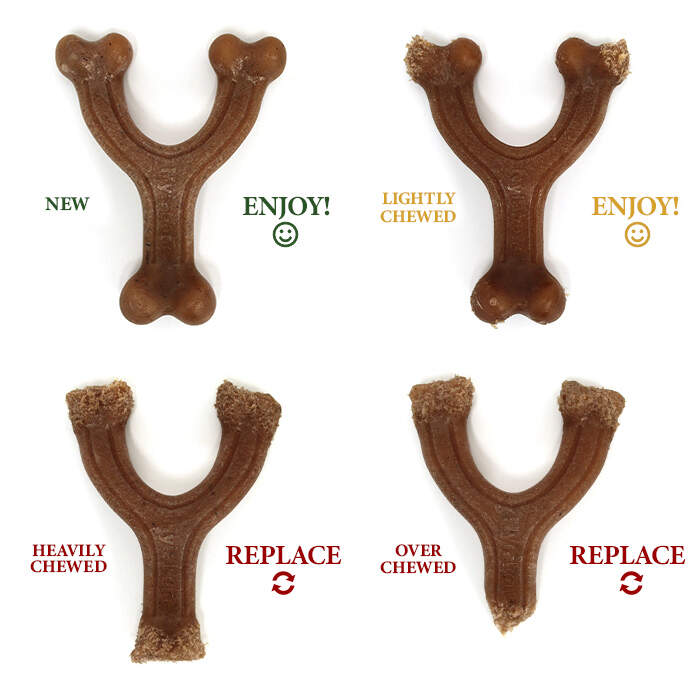 Guaranteed Your Dog Will Love It
As pet parents ourselves, we always make sure our very own furry friends approve of our latest creations first. Today, dogs and pet parents everywhere can agree: every chewer deserves a Gourmet Style experience.
If you're not happy with your Nylabone® chew toy for any reason, simply return it to us with the sales receipt for your money back. Or, reach out to our Consumer Care team so we can help make it right (and talk about how much we also love our dogs): 1-855-273-7527.
Find us on Instagram @nylabone and be sure to tag photos of your dog with #Nylabone and #NylaboneLove. There is nothing we love more than seeing your best friend in a state of chewing bliss!